Is this email not displaying correctly? Try the web version.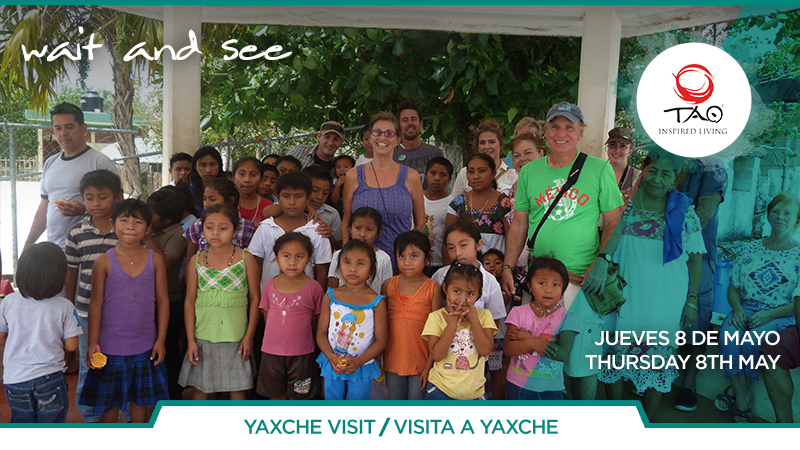 Visita a Yaxche
Jueves 8 de Mayo a las 8:00AM

Celebraremos el Día de las Madres con los niños de la escuela primaria Francisco Sarabia. Hemos organizado muchas actividades divertidas a las cuales eres más que bienvenido a participar en ellas. También estaremos visitando una casa tradicional maya donde podremos disfrutar de unas ricas tortillas hechas a mano.

Esta es una experiencia increíble que nunca olvidarás. Estaremos felices si te unieras a nosotros para esta visita.

**Compartiremos automóviles para el viaje a Yaxche y agradeceremos a las personas que tienen auto que nos apoyen con esto.

¿Qué es la Fundación TAO?

Aquí en TAO somos una organización no gubernamental dedicada a mejorar las condiciones sociales y ecológicas de la Riviera Maya y regiones globales relacionadas. Logramos esto mediante la donación de talentos y recursos, la creación de proyectos locales sustentables, la creación de capacidades y la educación.

A nivel local nos enfocamos en el bienestar social y la preservación de la comunidad maya, su cultura, y nuestros ecosistemas de la selva y el océano.

Si deseas saber más acerca de la Fundación TAO por favor ponte en contacto con foundation@taoinspiredliving.com o visita nuestra página de Facebook.
---
Yaxche Visit
Thursday 8TH May at 8:00AM

We are thrilled to announce that on Friday the 8TH of May we will visit the Mayan Community of Yaxche.

We will be celebrating Mothers Day with the children of the Francisco Sarabia Primiary School. We have organised many fun activities that you are more than welcome to participate in. We will also be visiting a traditional Mayan house where we will be able to enjoy some delicious handmade tortillas.

This is incredible experience and one that you will not forget. We would be delighted if you were to join us for the visit.

**We will be carpooling for the trip to Yaxche and we would appreciate those people who have a car to help us out.

What is the TAO Foundation?

Here at TAO we are a non-governmental organization dedicated to improving the social and ecological conditions of the Riviera Maya and related global regions. We do this by donating talent and funds; creating sustainable local projects; capacity building; and education.

Locally, we focus on the social welfare and the preservation of the Mayan community, it´s culture, and our jungle and ocean ecosystems.

If you would like to find out more about the TAO Foundation please contact foundation@taoinspiredliving.com or check out our Facebook Page.
CONNECT WITH US
TAO Inspired Living | Carretera Federal Chetumal – Benito Juarez km. 250 L-16. Gran Bahia Principe
Akumal, Quintana Roo, México, C.P. 77750 | 800-461-1037 | taoinspiredliving.com