Is this email not displaying correctly? Try the web version.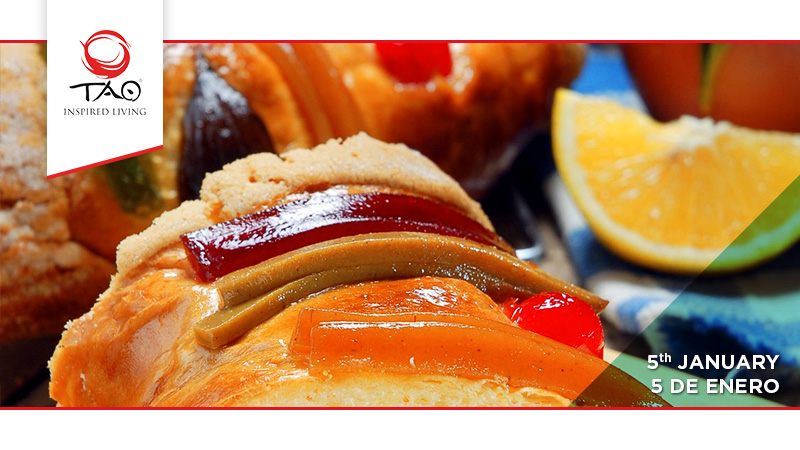 ---
RIVIERA MAYA´S LARGEST ROSCA DE REYES:
On January 5th, visitors and residents of the Rivera Maya are invited to gather on 5th Avenue to watch the assembly of the largest "Rosca de Reyes" ever made on the Riviera Maya.

Three Kings Day "Rosca de Reyes" is an oval, doughnut-like cake sweetened with honey and decorating with fruits of the desert, like figs, dates and nuts. Some consider the round cake an edible representation of the Advent wreath.

We hope you will join us all on the 5th of January at 7pm on 5th Avenue in Playa del Carmen to see the Riviera Maya's largest "Rosca de Reyes".

The cake will be assembled and displayed between 34th and 36th streets. Over 130 local businesses (Including TAO Inspired Living) and organizations have participated in this exciting family event!

If you would like to try a slice, bring a new unwrapped toy as a donation. The toys will be gathered and distributed to underprivileged children in the poorest colonies in the region so that they too may enjoy a gift from the Three Kings.

Don't forget to come by and say hello to us in the TAO stand!!
---
LA ROSCA DE REYES MAS GRANDE DE LA RIVIERA MAYA:
El 5 de Enero, visitantes y residentes de La Riviera Maya se reúnen en la 5ta Avenida para ser parte de esta celebración en donde serán testigos de la Rosca Reyes mas larga de la zona.

Día de Reyes "Rosca de Reyes" es un pastel ovalado, endulzado con miel y decorado con las frutas secas, como higos, dátiles y nueces.

Algunos consideran el pastel redondo una representación comestible de la corona de Adviento.

Esperamos que nos acompañe todos este 5 de Enero a 19:00 en la 5ª Avenida de Playa del Carmen a ver la más grande "Rosca de Reyes" de la Riviera Maya.

El pastel será montado entre las calles 34 y 36.

Más de 130 empresas locales (incluyendo TAO inspired Living) y organizaciones han participado en este emocionante evento familiar!

Si quieres probar una rebanada, trae un nuevo juguete envuelto para regalo, será para donación.

Los juguetes serán reunidos y distribuidos a los niños desfavorecidos en las colonias más pobres de la región para que también puedan disfrutar de un regalo de los reyes magos.

No te olvides de pasar por el stand de TAO!!
STAY CONNECTED!
TAO Inspired Living | Carretera Federal Chetumal – Benito Juarez km. 250 L-16. Gran Bahia Principe
Akumal, Quintana Roo, México, C.P. 77750 | 800-461-1037 | taoinspiredliving.com