Is this email not displaying correctly? Try the web version.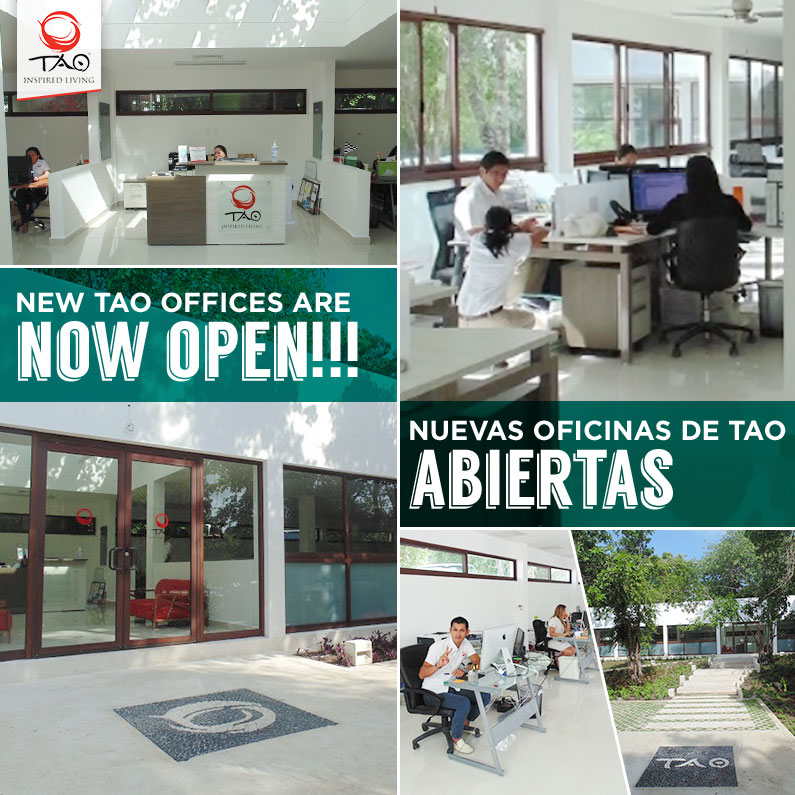 Dear TAO Family and Friends,

Were delighted to announce the opening of our new TAO offices. All the staff members from the Hacienda and Akumal offices are now located near the Sian Kaan resort. Please feel free to drop by and see us.

Querida familia TAO

Estamos encantados de anunciar la apertura de nuestras nuevas oficinas TAO. Todos los miembros del personal de las oficinas de Hacienda y Akumal ahora están ubicados cerca del hotel de Sian Kaan. No dudes en pasar por allá y visitarnos.
Where to find us:

Dónde nos encontramos:

AVENIDA DEL SOL ESQUINA VIA PALMA
INTERIOR DEL RESIDENCIAL GOLF RESORT
BAHIA PRINCIPE RIVIERA MAYA
LOTE 1 MANZANA 42
Municipio: TULUM
Entidad Federativa: Quintana Roo.
CP. 77780

New extension phone numbers:

Nuevos número de extensión:

Here is the list of the provisonal extension numbers that you may need. First of all please dial (984) 875 72 00.

Aquí está la lista de los números de extensión provisional. En primer lugar marque (984) 875 72 00 al 19.
EXT
USUARIO
DEPARTAMENTO
PUESTO
100
Beatriz Gaviria
DIRECCION GENERAL
Recepción
110
Alexander Urrutia
VENTAS
Director de ventas
111
Francisco Pavon
VENTAS
Director de nuevos proyectos
112
Johanna Coba
VENTAS
Gerente administrativa de ventas
113
Charlotte Anze
VENTAS
Coordinadora de ventas
134
Gonzalo Tuz
FINANZAS
Ingresos
115
Yatziri Casanova
ENTREGAS
Gerente de Entregas
STAY CONNECTED // MANTÉNTE INFORMADO

| | |
| --- | --- |
| | Follow us and keep up to date with all of the motivational tips and Events. |
| | Have you seen our latest review?See it here. |

| | |
| --- | --- |
| | Click here to see our latest video on the TAO Wellness Community. |
| | |

TAO Inspired Living | Carretera Federal Chetumal – Benito Juarez km. 250 L-16. Gran Bahía Príncipe
Akumal, Quintana Roo, México, C.P. 77750 | 800-461-1037 | taoinspiredliving.com