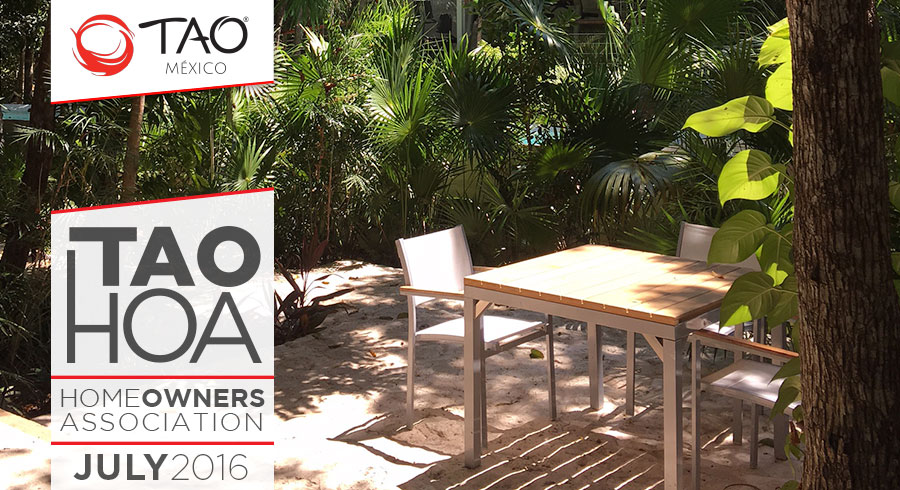 Dear TAO
Homeowners,
Dear Homeowners, it's a pleasure to greet you from the beautiful TAO Wellness Community!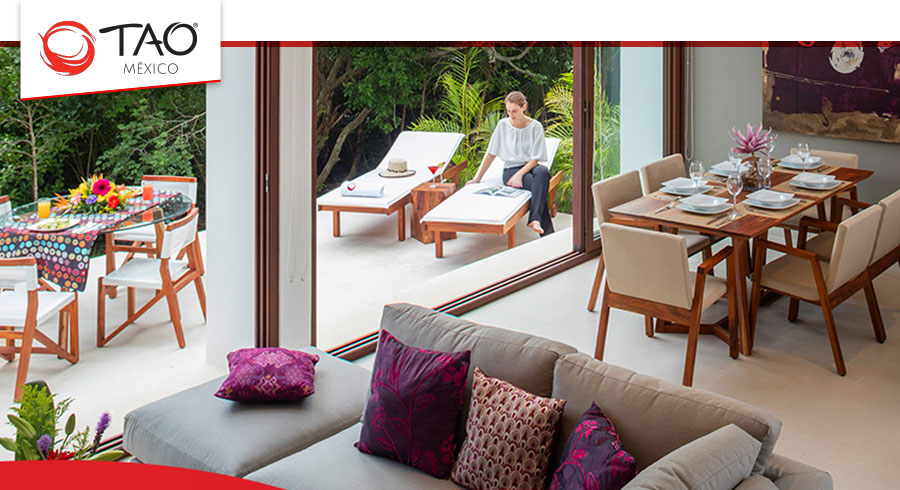 Casandra Update:
Our HOA Management software system, Casandra, is now 100% installed for the Ocean community! Casandra is now anticipated to be fully operational for TAO Wellness Community's Homeowners in August. Please remember to watch for notifications sent via email to create your own log-in and password.
As reminder, we continue to ask all Homeowners to review their statements, confirm all payment made and to please bring your accounts current as soon as possible for the benefit of the entire community!
When you see this request to join the CASANDRA system, please register. If you have any questions or concerns, please contact Ricardo Maya, HOA Director.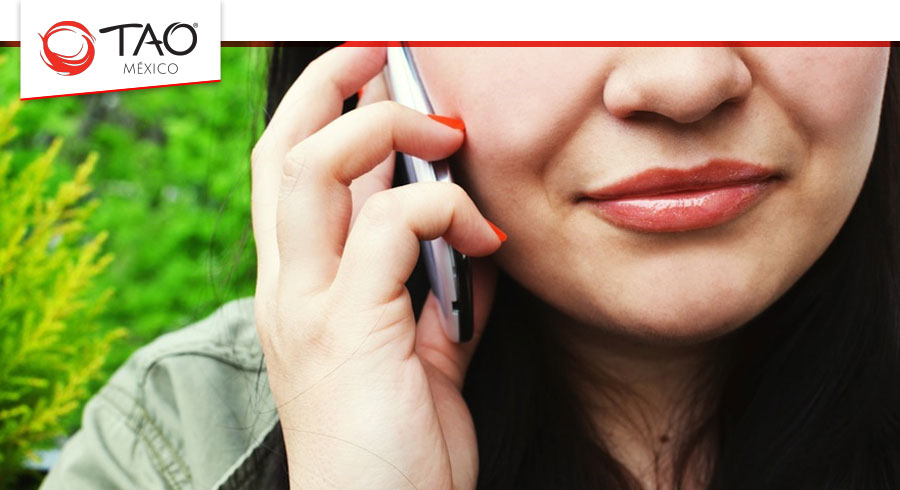 who to contact
We know it can be confusing keeping our growing company straight when it comes to who to call and for what. Here is a cheat sheet to help:
HOA
HOMEOWNER SERVICE MANAGER
WARRENTIES
DELIVERIES
Ricardo Maya
hoamanager@hoatao.com
Miguel Barroso
mbarroso@taomexico.com
Belem Raya
qualityassurance@taoinspiredliving.com
Silvia Iglesias
deliveriesmanager@taomexico.com
Community Ammenities
How to Information (i.e. set up bank accounts, utilities, get a Bahia day pass).
Warranty matters related to your construction.
Unit Delivery Dates
HOA fees
Community Events and Activities
Punch List Follow Up (not warranty)
Rules and Regulations
Area Information
Initial set up of Utilities
Security
Utility Payment / Follow UP
Emergency Issues
Remember to keep your Sales Agent copied on all requests! They are your Ambassadors for any issue you might have!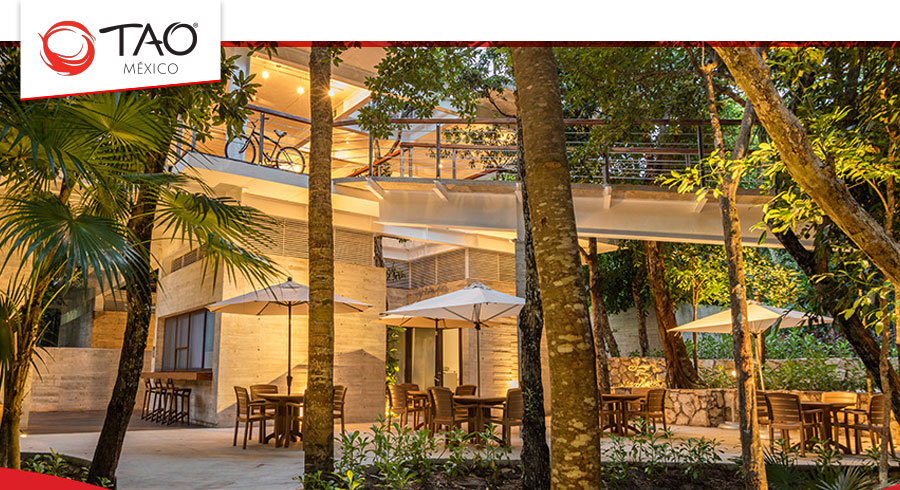 NEW REQUIREMENTS FOR TAO RENTERS and GUESTS:
Effective July 1, 2016, all Renters within the TAO community (vacation and long-term) and all Guests of Owners are requested to register at the Wellness Center upon arrival. Security will guide your guests and renters to the Registration area in order to provide the guest with a TAO Renter's / Visitor's bracelet and completion of a Guest Registration Form.
This program is being introduced in an effort to provide a better level of service to TAO Guests, as well as a more secure environment for TAO Homeowners.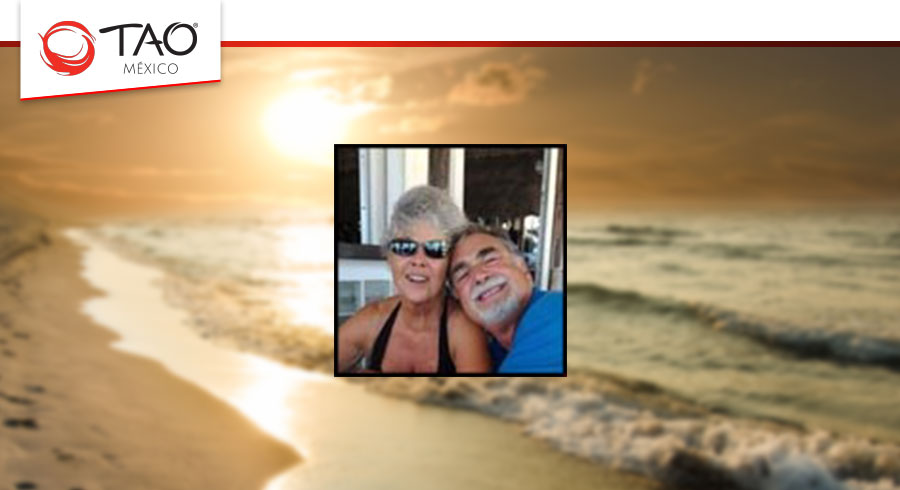 In Memoriam:
We are saddened by the loss of our good friend and TAO neighbor Michael Bruno, who passed away suddenly on July 6. Our thoughts and prayers are with his wife, Pam, and their family. The TAO Community has lost a friend and neighbor. His exuberance and energy for TAO and life in general will never be forgotten.
Earlier on July 6, Michael wrote a post about the special bond between grandparents and their grandchildren. It is indicative of his appreciation of life. He wrote about the unique joy inherent in this relationship, offering his and Pam's boundless love and affection for any 'surrogate grandchildren' who might be available to receive it.
He concluded with these words:
One final note: to this day I remember the times with my Grandfather when he would take me down to the railroad tracks to watch the trains and count the cars. 10, 50, 200, 250 cars would pass by while I counted them. It didn't matter to Grampa. He would stand there beside me until the last car had passed by. It is of little things like this that lifetime memories are made. So, this post is dedicated to all the Grampas out there but most especially to my Grampa, James Bruno. He was the best and I still miss him every day.
Vaya con Dios, Michael Bruno.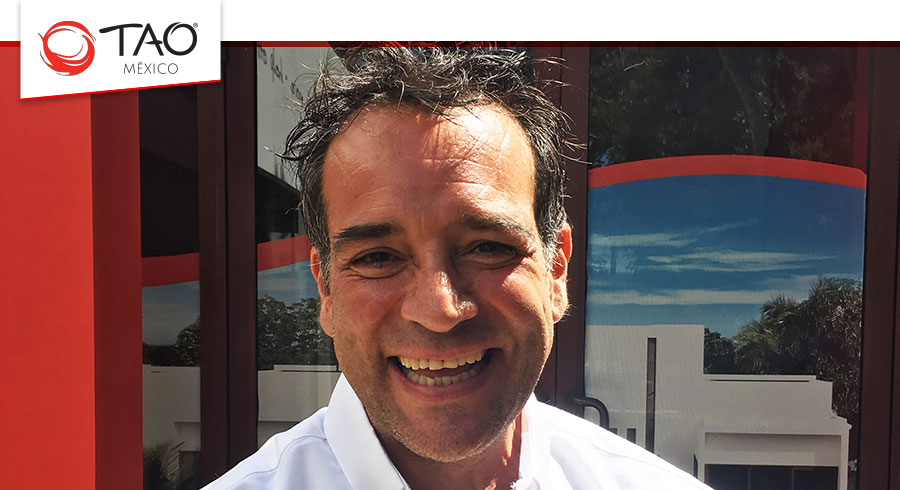 DID YOU KNOW?
TAO Guest Service Manager, Miguel Barroso, worked for many years as a financial advisor specializing in currency exchange? Look him up for helpful tips about the ever fluctuating peso exchange rate!
Murals at TAO
This past month Artist Lauren Napolitano honored TAO with a beautiful and bright mural in the TAO Wellness Center as well as a smaller mural near the Community Pool bathroom building. At TAO we believe in bringing people together, seeing things with fresh perspectives, and supporting local communities and artists. Art Murals make a statement, and add a bright and new look to the environment. When we look at Art, our brains go into a meditative-like state that focuses our minds and temporarily pushes aside all worries.
Every child is an artist. The problem is how to remain an artist once we grow up.
~Pablo Picasso
SCHEDULE OF EVENTS FOR JULY: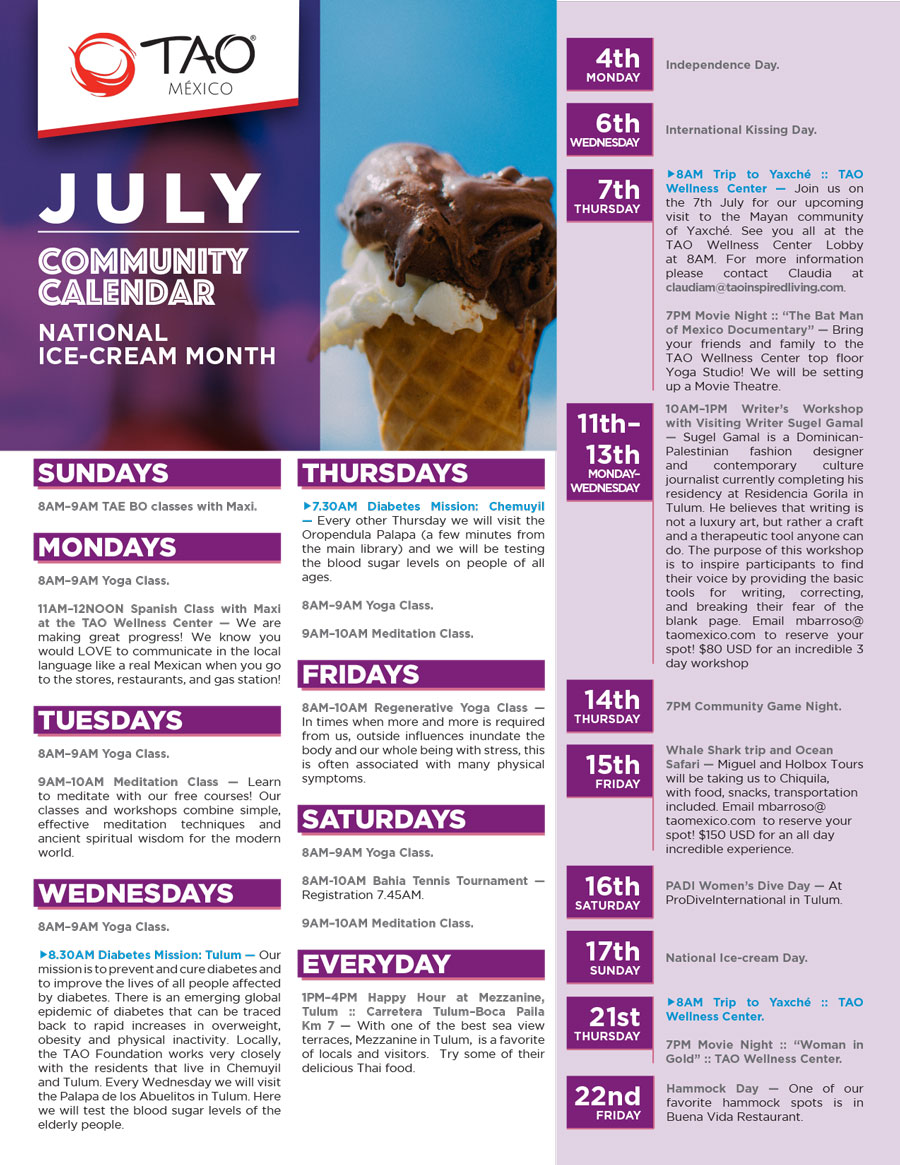 TELEFONOS DE EMERGENCIA / EMERGENCY PHONES
CONSULTORIO BAHIA PRINCIPE (Private Ambulance)
DR. MIGUEL ANGEL GALINDEZ NEGRON.
984-875-5000 EXT 28123
CRUZ ROJA AKUMAL / RED CROSS AMBULANCE
984-802-5521
Mario Mai, paramédico / rescate. Cel
986-120-1025
Angel Alejandro Canul, Paramedico. Cel
999-442-6085
Alejandra Coronel, Cel Phone
984-144-0058
MUNICIPIO DE SOLIDARIDAD, QUINTANA ROO / MUNICIPALITY OF SOLIDARIDAD, QUINTANA ROO
EMERGENCIAS / EMERGENCY
066 / 911
BOMBEROS / FIREFIGHTERS
984-879-3669
CRUZ ROJA / RED CROSS
984-873-1233
POLICIA FEDERAL DE CAMINOS / HIGHWAY PATROL
984-884-1542
PROTECCION CIVIL / CIVIL PROTECTION
984-877-3053
SEGURIDAD PUBLICA / PUBLIC SECURITY
984-873-0291
MUNICIPIO DE TULUM, QUINTANA ROO / MUNICIPALITY OF TULUM, QUINTANA ROO
EMERGENCIAS / EMERGENCY
066 / 911
BOMBEROS / FIREFIGHTERS
984-802-5459
CRUZ ROJA / RED CROSS
984-802-5521
POLICIA FEDERAL DE CAMINOS / HIGHWAY PATROL
984-884-1542
PROTECCION CIVIL / CIVIL PROTECTION
984-871-2688
TAO CLIP OF THE MONTH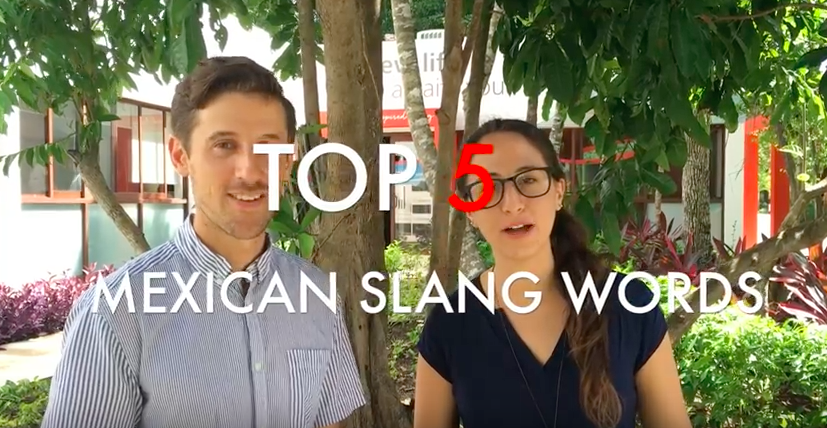 Please do not hesitate to contact me if you have any further questions.
Warm regards,
Ricardo Maya
HOA Manager
CONNECT WITH US!!







TAO Mexico | Carretera Federal Chetumal – Benito Juarez km. 250 L-16. Gran Bahía Príncipe Akumal, Quintana Roo, México, C.P. 77750 | 800-461-1037 | taomexico.com