Is this email not displaying correctly? Try the web version.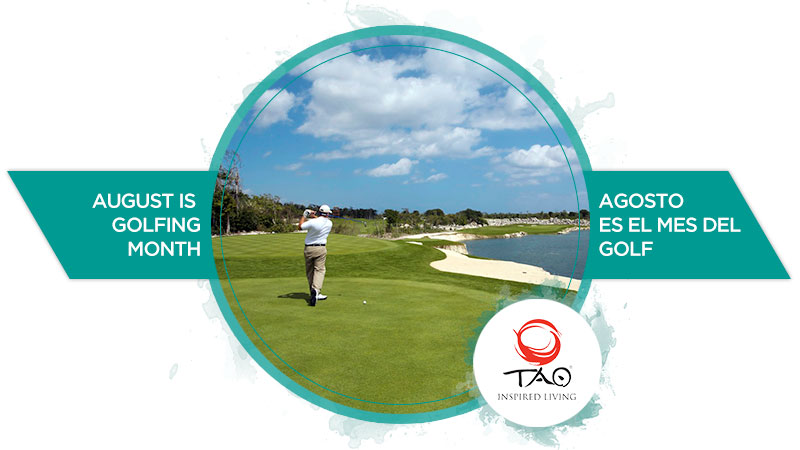 AUGUST IS GOLFING MONTH
TAO Inspired Living homeowners also enjoy the Riviera Maya Golf Course, an impressive and renounced project designed by Robert Trent Jones II. Surrounding this stunning 27 hole course, you will experience the vibrancy of the natural landscape, in a balance of wild jungle, natural lakes and water features, and exposed ancient limestone. This beautiful and challenging golf course is considered to be the third best in the country and many important tournaments are hosted here throughout the year. Contact Yatzi for more information at propertym@taoinspiredliving.com.
AGOSTO ES EL MES DEL GOLF
Los propietarios de una casa en TAO Inspired Living también disfrutan el Riviera Maya golf Club, una impresionante obra de arquitectura donde el reconocido diseñador Robert Trent Jones II ha logrado generar una espectacular sinergia del campo de golf de 27 hoyos con la fastuosa selva maya, lagos naturales y cenotes dentro de una escarpada geografía. Este bello y retador campo de golf es considerado el tercer mejor en el país y muchos torneos importantes se llevan a cabo a lo largo del año. Contacta a Yatzi para más informes en propertym@taoinspiredliving.com.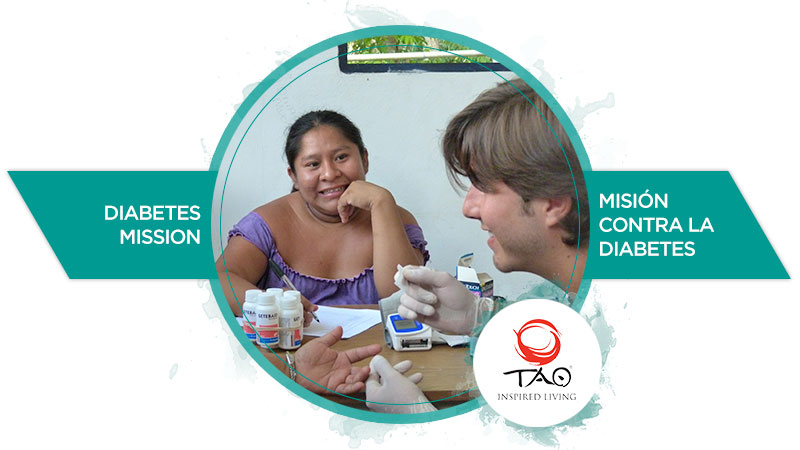 DIABETES MISSION
Our mission is to prevent and cure diabetes and to improve the lives of all people affected by diabetes. There is an emerging global epidemic of diabetes that can be traced back to rapid increases in overweight, obesity and physical inactivity. Locally, the TAO Foundation works very closely with the residents that live in Akumal, Chemuyil and Tulum.
AKUMAL: Every Tuesday we will visit the Health Clinic of Akumal to test the sugar levels of people of all ages.
TULUM: Every Wednesday we will visit the Palapa de los Abuelitos in Tulum. Here we will test the blood sugar levels of the elderly people.
CHEMUYIL: Every Thursday we will visit the Oropendula Palapa (a few minutes from the main library) and we will be testing the blood sugar levels on people of all ages.
MISIÓN CONTRA LA DIABETES
Nuestra misión es prevenir y curar la diabetes para mejorar las vidas de todas las personas afectadas por la diabetes. Existe una epidemia global emergente de diabetes, que puede rastrearse a rápidos incrementos de sobrepeso, obesidad e inactividad física. En la región, la Fundación TAO trabaja de cerca con los residentes que viven en Tulum y Chemuyil.
AKUMAL: Cada martes visitaremos la Clínica de Salud de Akumal para examinar los niveles de azúcar en personas de todas las edades.
TULUM: Cada miércoles visitaremos la Palapa de los Abuelitos en Tulum. Aquí examinaremos los niveles de azúcar en la sangre de las personas de la tercera edad.
CHEMUYIL: Cada jueves visitaremos la Palapa Oropendula (a pocos minutos de la biblioteca principal) y examinaremos los niveles de azúcar en la sangre de las personas de todas las edades.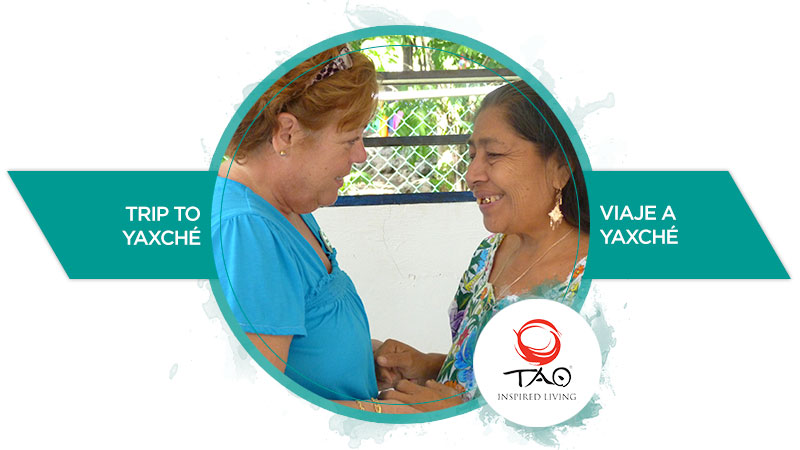 TRIP TO YAXCHÉ
Join us on the 19th of August for our upcoming visit to the Mayan community of Yaxché. See you all at the TAO Wellness Center Lobby at 8 AM. For more information please contact Claudia at: claudiam@taoinspiredliving.com.
VIAJE A YAXCHÉ
Únete este 19 de agosto a nuestra próxima visita a la comunidad maya de Yaxché. Nos vemos en el lobby del TAO Wellnes Center a las 8 AM. Para más informes, contacta a Claudia en: claudiam@taoinspiredliving.com.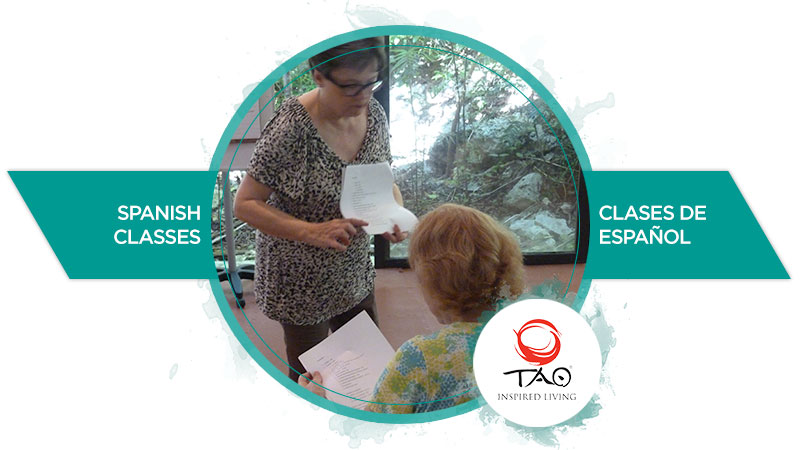 SPANISH CLASSES
Join Kathy as she perfects our Span- ish in fun and exciting ways.
CLASES DE ESPAÑOL
Únete a Kathy, ella te ayudará a perfeccionar tu español de forma divertida y emocionante.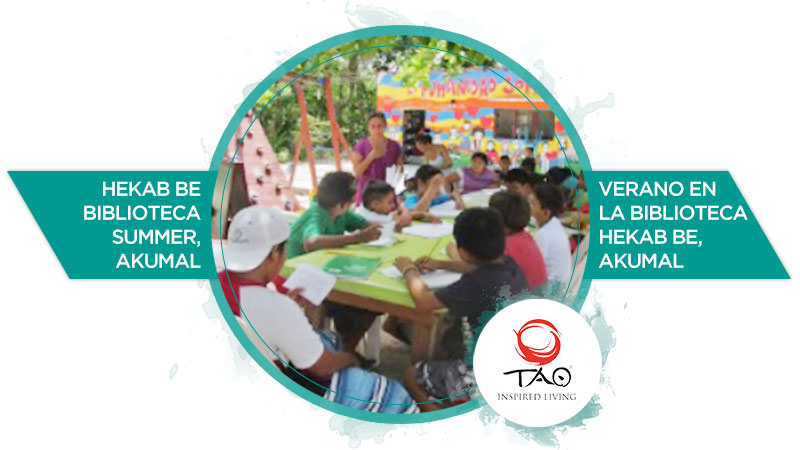 HEKAB BE BIBLIOTECA SUMMER, AKUMAL
August 1st – 14th, 9 AM – 1 PM
Summer Program at Hekab Be Biblioteca is always looking for volunteer to teach classes or donate time. Go by and share your special skills/knowl- edge with the wonderful children of Akumal Pueblo.
VERANO EN LA BIBLIOTECA HEKAB BE, AKUMAL
Agosto 1o. – 14, 9 AM – 1 PM
El Curso de Verano en la Biblioteca Hekab Be siempre recibe voluntarios para dar clases o que donen su tiempo. Pasa y comparte tus habilidades y/o conocimientos con los maravillosos niños del pueblo de Akumal.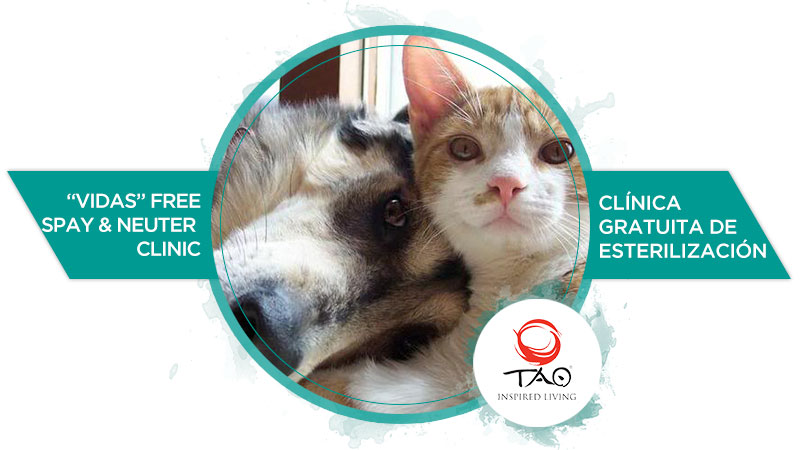 "VIDAS" FREE SPAY & NEUTER CLINIC FOR DOGS & CATS
August 8th – 13th, 8 AM – 12 noon
Volunteers needed to help with: Promoting this clinic (Fliers can be picked up the week before from Coco's Cat Rescue), Transport to help people get their animals to and from the clinic, Recovery room, Check in, Check out. If you are interested in helping with any of above please contact info@cocoscatrescue.org.
CLÍNICA GRATUITA DE ESTERILIZACIÓN PARA PERROS & GATOS DE "VIDAS"
Agosto 8 – 13, 8 AM – 12 mediodía
Se necesitan voluntarios para ayudar con: Promoción de la clínica (los volantes se pueden recoger una semana antes en Coco's Cat Rescue); Cuidado en el área de recuperació Registro de entrada de animales y; Registro de salida de animales. Si estas interesado en ayudar por favor contáctanos en info@cocoscatrescue.org.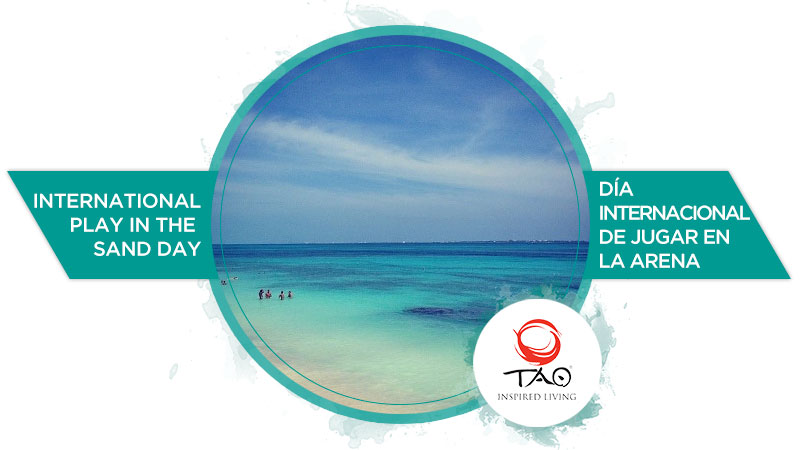 INTERNATIONAL PLAY IN THE SAND DAY
August 11th
We are very lucky to live in one of the most beautiful and picturesque places in the world. Just 5 minutes from TAO we have the gorgeous beaches of Akumal and 10 minutes we are blessed with the stunning beaches of Xcacel. Take time today to enjoy our world class beaches.
DÍA INTERNACIONAL DE JUGAR EN LA ARENA
Agosto 11
Somos muy afortunados de vivir en uno de los lugares más bellos y pintorescos en el mundo. A sólo 5 minutos de TAO tenemos las bellas playas de Akumal y a 10 minutos tenemos las hermosas playas de Xcacel. Este día toma el tiempo para disfrutar de nuestras playas de renombre mundial.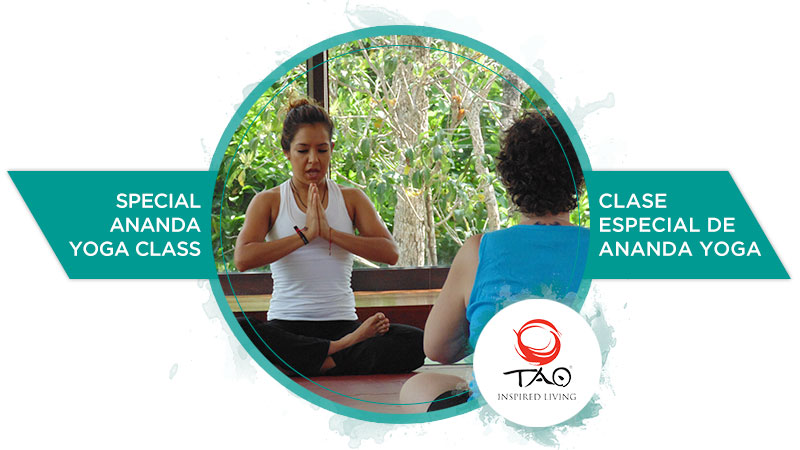 SPECIAL ANANDA YOGA CLASS, WITH MONTSE
August 21st 10 AM – 11 AM
Ananda Yoga classes focus on gentle postures designed to move the energy up to the brain and prepare the body for meditation. Classes also focus on proper body alignment and controlled breathing.
CLASE ESPECIAL DE ANANDA YOGA, COM MONTSE
Agosto 21, 10 AM – 11 AM
Las clases de Ananda Yoga se enfocan en posturas gentiles diseñadas para moder la energía hacia el cerebro y prepararar el cuerpo para meditación. Las clases también se enfocan en una correcta alineación del cuerpo y controlar la respiración.
STAY CONNECTED
TAO Inspired Living | Carretera Federal Chetumal – Benito Juarez km. 250 L-16. Gran Bahia Principe
Akumal, Quintana Roo, México, C.P. 77750 | 800-461-1037 | taoinspiredliving.com