Is this email not displaying correctly? Try the web version.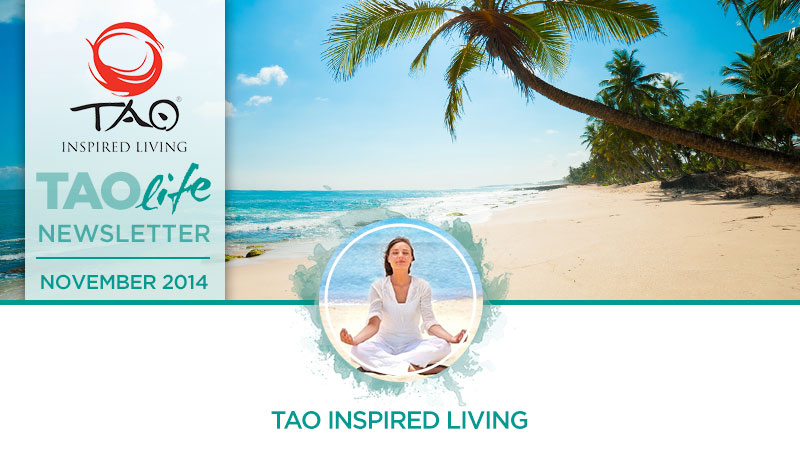 Dear TAO Friends and Family,
In Mexico, the month of November starts off with Day of the Dead celebrations in full swing; November 2nd is a public holiday. This is also the month in which the Mexican Revolution is commemorated. The official holiday for the revolution is always held on the third Monday in November (this year, November 17); banks, post offices and government offices will be closed that day. Also for all of you golf lovers don't miss out on going to see the OHL Golf Tournament at Mayakoba.
Almost like turning off a tap, the rainy season in Mexico slows to a relative trickle in November, while temperatures remain high. Unfortunately this does not mean that the threat of tropical storms – particularly on the Caribbean coast of Mexico – is totally eradicated, but the likelihood of such unpleasant weather is much reduced. The hurricane season officially ends on the 30th November.
Generally November is a great month to be living in Mexico, with hot, sunny days and cool, balmy evenings on the coast, and mild to cool conditions in the interior.
My thought of the month: Believe in yourself! Have faith in your abilities! Without a humble but reasonable confidence in your own powers you cannot be successful or happy. - Norman Vincent Peale
Have a great month everyone
Warm regards
Isaac Henares
Operations Director
INVITATION TO THE NEXT DISCOVERY WEEKEND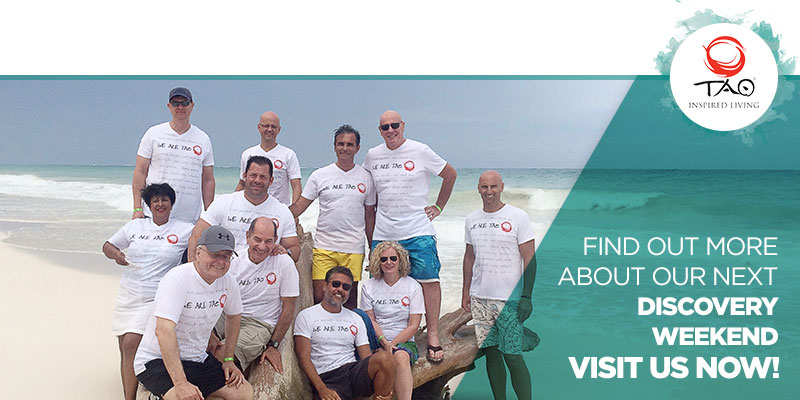 Come and join us for our next Discovery Weekend and find out for yourself why everyone is talking about the Riviera Maya and the new way of life at TAO Inspired Living.

Read more here about the next Discovery Weekend. 
RESIDENTIAL AREA - Townhomes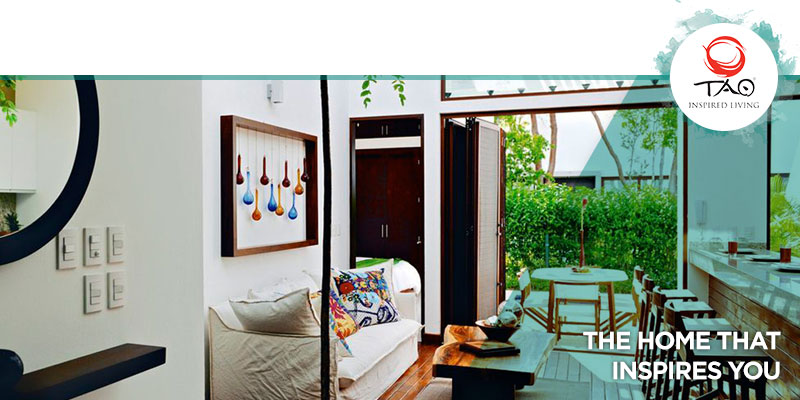 The Townhomes boast a wonderful play of natural light and open space. The outdoor living space of the Townhomes merge with the Mayan jungle and allow residents to enjoy the natural surroundings from the comfort of their backyard patio, or while relaxing on the rooftop terrace.
Townhomes feature two spacious bedrooms, two full bathrooms, an open living room, well-equipped kitchen with breakfast bar and a home office/den area.
Come and see it for yourself and find out why everyone is talking about TAO in the gorgeous Riviera Maya.
REAL ESTATE IN RIVIERA MAYA -
Best Offer of Sun and Culture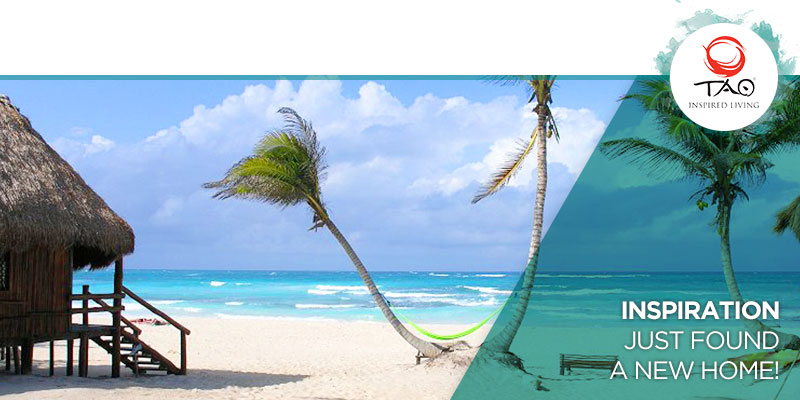 The Mayan Riviera is a stretch of immaculate Mexican beaches spanning towns between Puerto Morelos in the North and Tulum in the South. The pristine shoreline features aquatic activities, luxury resorts, soothing spas and vivacious nightlife with most wonderful offering in Real Estate in Riviera Maya.
Read more here → Real Estate in Riviera Maya best Offer of Sun and Culture.
Cirque du Soleil opening November 2014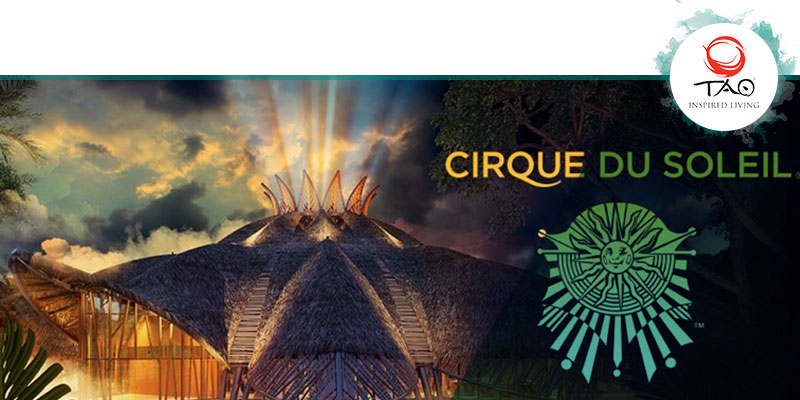 JOYÀ follows the adventures of a rebellious teenage girl whisked away to a mysterious jungle in her grandfather's fantastical world. Surrounded by a strange band of half-human, half-animal assistants, the extravagant naturalist is on a relentless quest for the meaning of life.
UPCOMING EVENTS AT TAO
Expanding the Heart of Humanity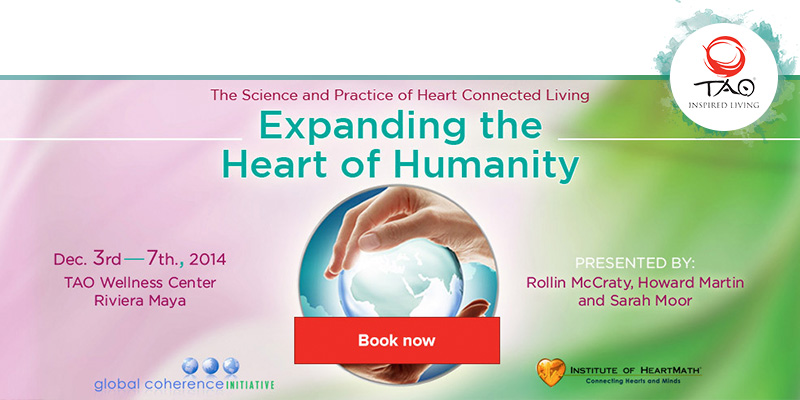 Prepare yourself to embark on a unique journey and learning experience, where you will learn tools that connect us with the heart of who we truly are for living healthier, fulfilling lives and building a brighter future. The annual gathering Expanding the Heart of Humanity: The Science and Practice of Heart-Connected Living is from Dec. 3-7 at the TAO Wellness Center, a fantastic and uplifting venue in the Riviera Maya on Mexico's Caribbean coast
UPCOMING EVENTS IN THE RIVIERA MAYA
Día de Muertos - Days of the Dead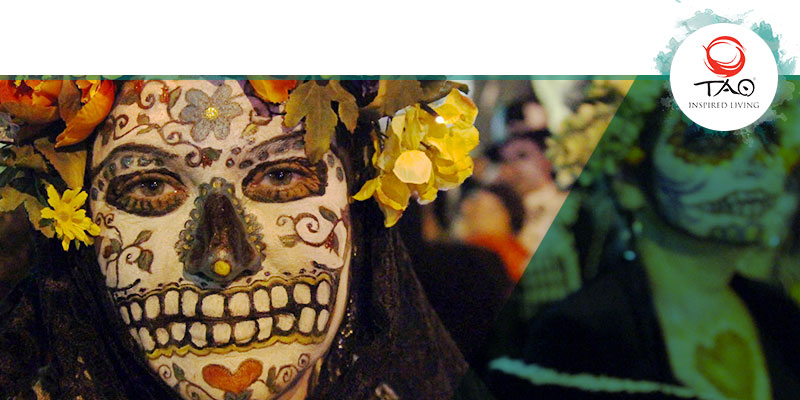 Celebrated throughout Mexico from October 31st to November 2nd.
Deceased relatives are remembered and honored in this unique cultural celebration. Festivities take place throughout the country, but are most colorful in Pátzcuaro, Oaxaca, Chiapas and San Andrés Mixquic (D.F.).
UPCOMING EVENTS IN THE RIVIERA MAYA
Mayakoba Golf Classic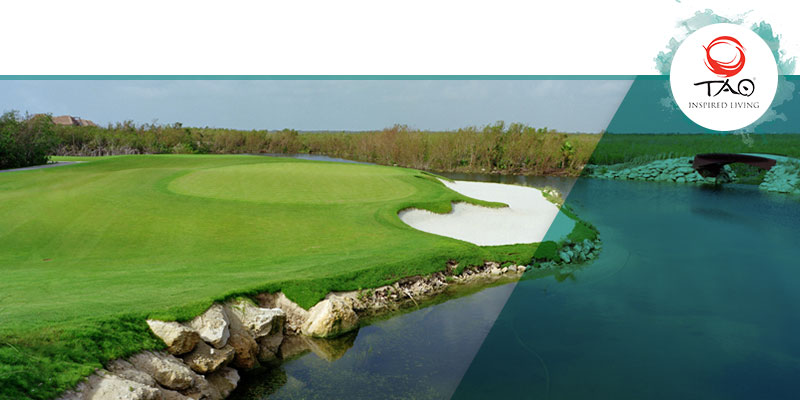 Riviera Maya, Quintana Roo, November 13 to 16
The only PGA tournament in Mexico features a one-day Pro-Am competition followed by a four-round professional tournament contested on the Greg Norman-designed El Camaleón golf course at Mayakoba.
UPCOMING EVENTS IN THE RIVIERA MAYA -
Día de la Revolución - Revolution Day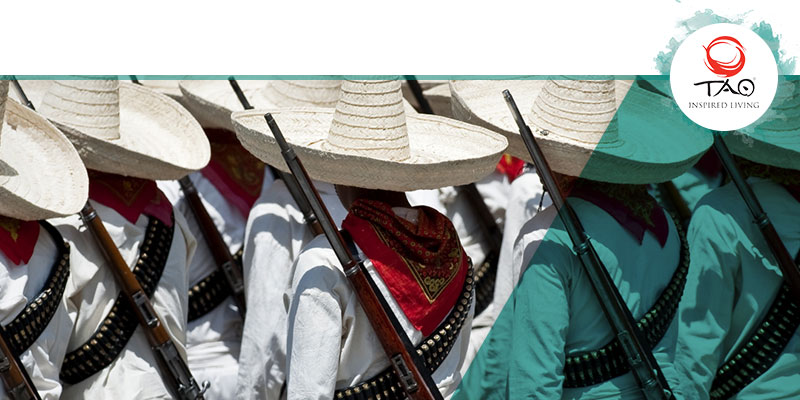 Throughout Mexico, November 20th
This day marks the anniversary of the Mexican Revolution of 1910. Parades and celebrations take place throughout the country. (Note: the official holiday is observed on the 3rd Monday of the month, but some civic ceremonies may be held on the 20th.)
UPCOMING EVENTS IN THE RIVIERA MAYA -
Riviera Maya Jazz Festival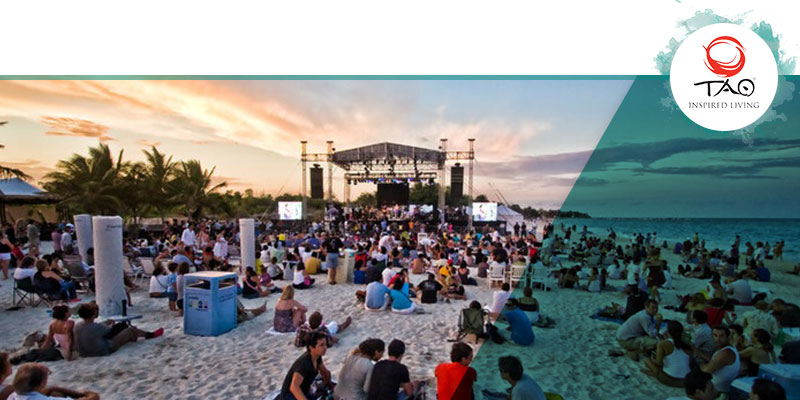 Playa del Carmen, November 27 to 29
Playa del Carmen will host major national and international jazz musicians who will perform under the stars, at the Mamitas Beach Club. This year's lineup includes Colin Hunter, Take 6, Hiram Gomez, and the Pat Metheny Unity Group.
NEWS FROM THE RIVIERA MAYA -
Dramatic Cave Rescue Comes to an End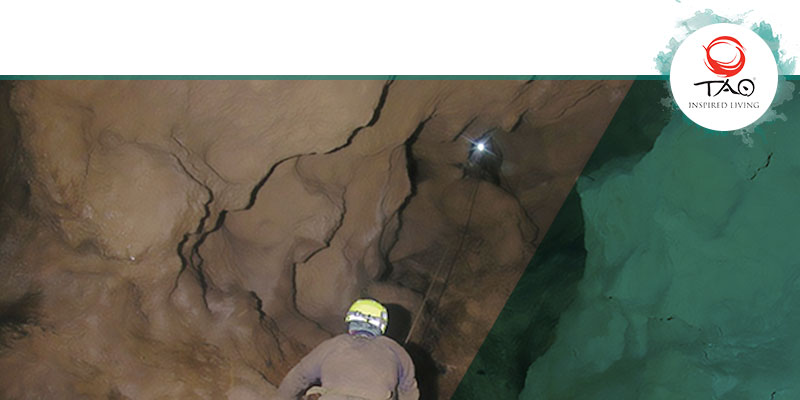 Spanish speleologist Cecilio López-Tercero was exploring the Intimachay cavern on Sept. 18, deep in Peru's remote Amazon region, when he fell 5 meters causing severe injuries and trapping him hundreds of meters below the surface. His removal, planned in various stages, was one of the most tense cave rescues ever.
TAO'S TIP OF THE WEEK -
Visit Xel Há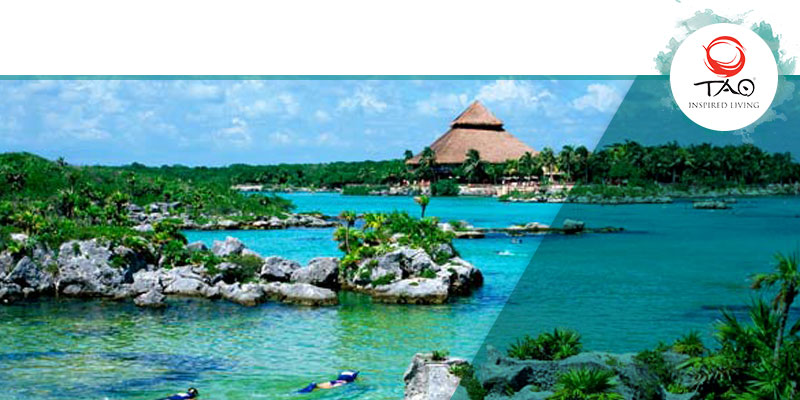 Xel-Há, one of the amazing attractions in Cancún, Riviera Maya, México, a natural aquarium park considered the largest aquarium in the world, the perfect place to perform activities in Riviera Maya. If you love nature, there is no better place than Xel-Há to practice snorkeling and water activities.
TAO FOUNDATION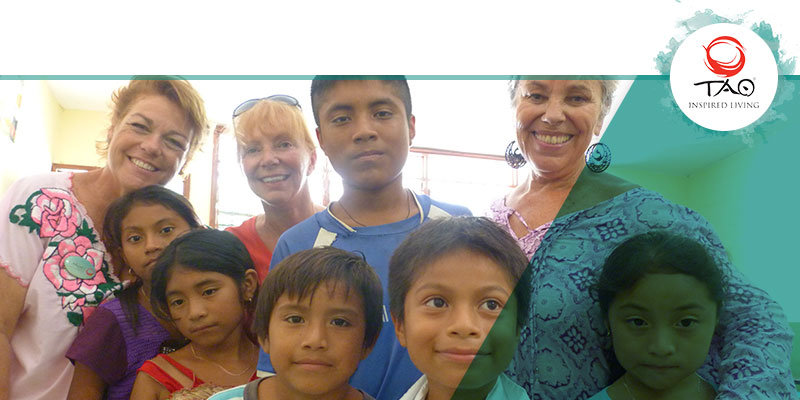 Here at TAO we are a non-governmental organization dedicated to improving the social and ecological conditions of the Riviera Maya and related global regions. We do this by donating talent and funds; creating sustainable local projects; capacity building; and education.

Locally, we focus on the social welfare and the preservation of the Mayan community, it´s culture, and our jungle and ocean ecosystems.

If you would like to find out more about the TAO Foundation please contact foundation@taoinspiredliving.com or visit our Facebook Page.
STAY CONNECTED
Click here to see all of the photos from our recent visit to Yaxche.
Follow us and keep up to date with all of the motivational tips and Events.
Click here to see our latest video on the TAO Wellness Community
Check out our board on "Conscious Living Tips"
Have you seen our latest review?
See it here.
TAO Inspired Living | Carretera Federal Chetumal – Benito Juarez km. 250 L-16. Gran Bahia Principe
Akumal, Quintana Roo, México, C.P. 77750 | 800-461-1037 | taoinspiredliving.com