Is this email not displaying correctly? Try the web version.
Dear TAO Family and Friends,
Here we are in 2016 and it looks like a year full of great potential and positive change. Of course the New Year is a natural time to make new plans, new intentions, and new promises to ourselves and others. Remember these tips as you consider your New Year's resolutions: make your goals as specific and behavioral as possible (instead of, "I will lose ten pounds," try, "I will eat smaller portions and will exercise four times a week for forty minutes"); write your intention and plan down and keep it somewhere visible; share your intentions with a coach or encouraging friend; and create some way to monitor your steps to help you stay on track (use a calendar, an app, a coach, a checklist etc.).
Self-improvement is at the top of everyone's New Year's resolution list. An estimated 45% of Americans resolve to make some form of personal change each year. And though intentions start out strong, research suggests that merely 8% of people successfully achieve their resolutions. This number may not sound reassuring, but if you're serious about setting goals and sticking to them this year, studies show that yoga and meditation provide the tools needed for lasting change.
Because yoga strengthens the mind-body connection, it's a highly effective tool for long-term change. Attention and observation through mindfulness makes us aware of our automatic patterns, while intention and practice reinforce new desired behavior. Whether it's a New Year's resolution or something you want to improve any time of the year, yoga and meditation provide the means to make change and stick with it.
This is high season in Mexico as folks from colder climes seek the warm weather and sunshine Mexico offers, but those looking for hot weather should keep in mind that Mexico's weather is not uniformly hot, and this is also one of the coldest months of the year south of the border.
Our team is excited about the new and we have lots of great plans for making the community the best it can be. Expect to see some great speakers at TAO this year, wonderful weather and developments in the Riviera Maya and countless reasons to visit. 2016 is the year to concrete our commitments, not only in our personal lives but also in our professional live too.
My thought of the month: The New Year stands before us, like a chapter in a book, waiting to be written. We can help write that story by setting goals - Melody Beattie
All of us here at TAO are wishing you a wonderful new year, filled with the very best of health and happiness.
Isaac Henares
Operations Director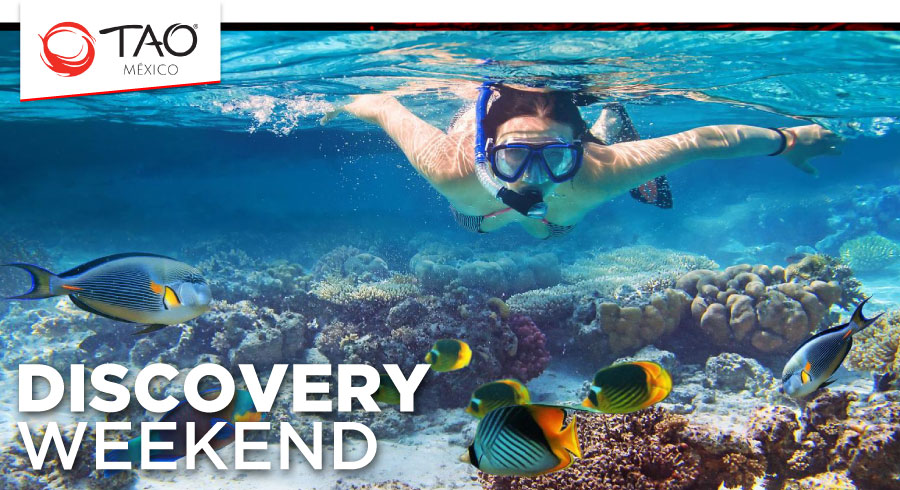 DISCOVERY WEEKEND
Come and join us for our next Discovery Weekend and find out for yourself why everyone is talking about the Riviera Maya and the new way of life at TAO Inspired Living.
Residential Area
TAO TOWNHOMES
The lavish and sophisticated Townhomes of TAO Inspired Living® are a luxury residential development in the heart of the Riviera Maya, designed to offer plenty of features to please the most discriminating buyer. The spacious floor plans of these Townhomes combine a wonderful play of natural light and open spaces that incorporated with individually curated details and statement pieces exude taste, quality and comfort.
The lush Mayan jungle that surrounds these fine investment properties merges with its outdoor living spaces allowing its residents to enjoy the peaceful natural surroundings from the comfort of their backyard patio, or while relaxing on the rooftop terrace. Elegant open spaces that are also great for entertaining and create whimsical memories.
LOCAL NEWS:
Forget about Star Wars, check out the "Jaguar from the Stars"
One of the best preserved archaeological sites in Yucatan is Ek Balam, or "Jaguar from the Stars". Walls, pyramids, sculptures, friezes and stelae show us the artistry of Maya architecture.
LOCAL NEWS:
Four reasons why foreigners should retire in Mexico
Retirees living in Mexico enjoy a low cost of living, warm climate, natural beauty, modern infrastructure and one of the most intriguing cultures in the world.
Many airports throughout Mexico offer short, direct flights to the United States, making it easy to return home or to have visitors. The low cost and high quality of Mexico's health care system also attract many retiring Americans.
LOCAL NEWS:
A look around TAO INSPIRED LIVING
There is a full size outdoor infinity lap pool located right in the heart of TAO Wellness Center, this refreshing infinity lap pool highlights the beauty of the jungle and its eco-friendly salt water system allows you to feel as if swimming in the Caribbean, while being easy on your skin and eyes. Exercise your muscles and relax your mind or just float while looking and the sky and listening to the singing birds on the tree tops.
Upcoming events
New Year's Day
January 1st
This is a national holiday and all-around quiet day. Most stores and businesses are closed as folks recuperate from the revelry of New Year's Eve. Museums, archaeological sites, and most tourist attractions are open on their regular schedule.
Upcoming events
Merida International Arts Festival
January 5th to 28th
Merida is a city which has a bustling cultural scene year-round but during the annual arts festival, the city is bursting with cultural events, concerts and art exhibits.
Upcoming events
Día de Reyes - Kings Day
January 6th
Traditionally this is the day Mexican children receive gifts, brought by the three kings (the Magi).
Upcoming events
Fiesta de San Antonio de Abad - Feast Day of Saint Anthony
January 17th
On the feast day of Saint Anthony Abbot, also known as Saint Anthony of the Desert, patron of the animal kingdom, animals are decorated with flowers and ribbons and brought to churches to be blessed.
Upcoming in February
TAO Cuba Trip
February 4th-7th
Rousing rhythms, luscious landscapes and loquacious locals make charismatic Cuba a top travel destination for lovers of music, food, culture and life! Offering so much more than antiquated cars and coveted cigars, Cuba has a bounty of beaches, villages, farms and forests for travellers to explore
Upcoming in February
Valentine's Day - Día del Amor y la Amistad
February14th
In Mexico this day is to celebrate friendship, as well as love. Friends and lovers exchange cards, gifts or flowers.
RECIPE:
Three Kings Bread: Rosca de Reyes
The tradition of the Three Kings Bread or Rosca de Reyes dates back to the middle ages in Europe, and was brought to Latin America from Spain. In Mexico, Three Kings Day is a very important holiday, and even for some children, it is the day they receive the gifts the wisemen brought them. Usually, Roscas are bought in bakeries, but if you happen to be unable to find one, you can step up to the challenge and make the most delicious Rosca to keep up this lovely tradition with your family and loved ones.
TAOs Top Tip:
Visit Mexico's largest Island
The largest inhabited island in Mexico and the oldest in the Caribbean group, Cozumel is located 12 miles off the eastern coast of the mainland (Yucatan Peninsula.)The limestone plateau that forms the base of the island is 34 miles long (north to south) and 11 miles wide (east to west).
The island is one of the top 5 dive destinations in the world thanks to the stunning coral reefs (second largest in the world) that are located just off its southwestern coast.
TAO Foundation
We are creating healthier communities, where equality, empowerment and opportunity are common. We are committed to fostering the fullest expression of healing relationships in this world, for people with themselves and their community, for those who have talent or resources to share, and for each and every one to realize their impact on and interrelationship with the natural world.
If you would like to find out more about the TAO Foundation please contact foundation@taoinspiredliving.com
CONNECT WITH US!!






TAO Mexico | Carretera Federal Chetumal – Benito Juarez km. 250 L-16. Gran Bahía Príncipe Akumal, Quintana Roo, México, C.P. 77750 | 800-461-1037 | taomexico.com