Is this email not displaying correctly? Try the web version.
Dear TAO Family and Friends,
I can't believe it's already March!
March is a month of seasonal change – let's hope. Many of you have had an unusually difficult winter of weather. Aside from escaping to TAO, I recommend you make a fearless attempt to get outside, regardless of the rain or snow. It's important to be careful in dangerous conditions of course, but very often the resistance to the cold or wet makes it all worse. Much like life, when we are afraid to face something, such as a problem, it grows bigger in our minds, and gains emotional power. When we face our problems, experiencing the emotions and exploring the perspectives, they become more manageable and ultimately don't seem so bad. In the same way a cold scene out your window is transformed after you bundle up and go for a walk. Time the time to watch the changes in the world around you: appreciate the snow, smell the beauty of the rain, watch the clouds in the sky and patterns on the earth. Anything we approach with an open heart and willingness will reveal its beauty in time.
March is looking like a busy month here in TAO; here are some of the big events that are coming up:
4th-8th March- Yoga, Dance and Intuitive Healing with Dr. Jennifer Kelly, a therapeutic and innovative blend of yoga, music, dance and intuitive healing
19th March 11am-5pm. Up close & personal photography by Cindy Skeie , a photo expo at the TAO Wellness Center
21st, 23rd, 25th, 27th March Tarot and Astrology Readings with Tegan, Practice opening you subconscious mind and interpreting patterns, symbols and elemental sequences of the tarot deck.
22nd Equinox at Chichen Itza.
My quote of the month: Life is like riding a bicycle. To keep your balance, you must keep moving. - Albert Einstein
Isaac Henares
Operations Director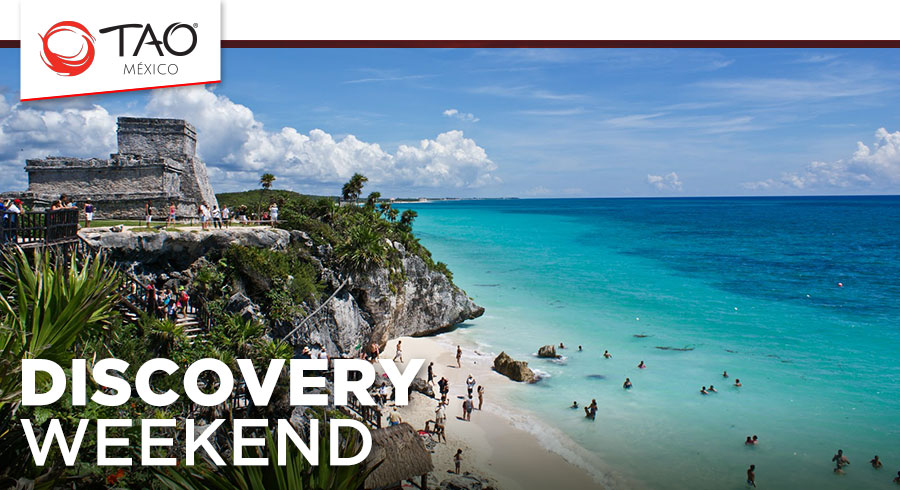 DISCOVERY WEEKEND
Come and join us for our next Discovery Weekend and find out for yourself why everyone is talking about the Riviera Maya and the new way of life at TAO Inspired Living.
Residential Area
CHAN Building at Sirenis
TAO MEXICO® introduces its latest Real Estate project, CHAN Building at Sirenis®, an extraordinary development surrounded by unparalleled natural beauty and exquisite residential units located within the Grand Sirenis Riviera Maya Resort & Spa® complex.
Located just a few meters away from the pristine white sand beaches and the crystalline waters of the Mexican Caribbean, CHAN Building at Sirenis®, is definitely a great opportunity to invest in the Riviera Maya, Mexico.
LOCAL NEWS:
Losing Weight in the Riviera Maya with one of TAO Inspired Livings homeowners!
Have you had the courage to weigh in since Christmas? Have no fear if you have gotten off track because Chris Walker can help you to lose weight, in fact it's his guarantee! Chris offers group or individualized programs, in which you gain nothing but the benefits of great health. If you don't lose three to five pounds in your first week, if you don't drop inches fast and lose a pant-size in 30 days – you get your money back! Chris complements your workout with a personalized nutrition program that includes quick five minute meal plans and healthy recipes.
LOCAL NEWS:
Cobá's Nohuch Mul, the tallest Maya pyramid in the Yucatán Peninsula
Visitors who brave the steep climb up the highest pyramid in Mexico's Maya world reap the reward of a breathtaking vista.
At more than 130 feet in height, Nohuch Mul, which means "large mound" in the Mayan language, is the tallest pyramid at Coba archaeological site and in the Yucatán Peninsula.
LOCAL NEWS:
Mo, Mo, Mojitos!
Sure, we may be in Mexico but that doesn't mean we can't enjoy this deliciously cool Cuban cocktail
Originating in Havana, Cuba, the mojito cocktail has gained popularity the world over. Comprising white rum, sugar, lime juice, sparkling water and mint in a highball glass, the secret to a great mojito is the gentle 'mashing' of the lime, sugar and mint with a muddler. This bruises the mint leaves releasing the plant's potent essential oils.
LOCAL NEWS:
A look around TAO INSPIRED LIVING- Wellness is the NEW way of life!
TAO Wellness Center is an architectural masterpiece that blends perfectly with the jungle treetops. A sanctuary for health, relaxation and soothing of the body, mind and spirit. This hidden gem is home to many services, programs and workshops that inspire fitness, well-being and an extraordinary connection with nature. Definitely the jewel of the crown of TAO inspired living® way of life.
Upcoming events In March
Cancun Half Marathon
6th March 2016
The Cancun half marathon will commemorate on 6 March, the International Women's Day Más Acción Sport events organisation, the municipality of Benito Juarez, with the support of the Convention and Visitors Bureau and with the coordination of the Municipal Sports Institute, invite you to enjoy Cancun and celebrate the International Women's Day by participating in:
Upcoming events In March
Up close & personal photography by Cindy Skeie
19th March 2016
TAO Wellness Center
11am - 5pm
Cindy will be visiting the TAO Wellness Center on the 19th of March to show her photographs. All of her photos will be for sale. Enjoy a afternoon of wine tasting with friends. Full details on Cindy's website: www.skeiescapes.com, contact her at cindys@skeiescapes.com or check the official Facebook Page here
Upcoming events In March
Breakfast in Valladolid and Equinox at Chichen Itza
Meeting place: TAO Wellness Center, 7am, Tuesday 22nd March
The Chichen Itza Spring Equinox is a stunning event featuring Mayan history and archeology that takes place in Chichen Itza. Every year during the autumn and spring equinoxes the light of the sun makes a shadow, which makes it seem as if a serpent is slithering along the steps of the pyramid, with the effects beginning in the late afternoon and lasting for an hour. This serpent shadow annually appears for a few days at the Kulkulkan Temple, from around March 19th to the 23rd, but has the most effect on the actual date of the equinox, which annually changes
Upcoming events In March
Tarot and Astrology Readings with Tegan
21st. 23rd,25th and 27th March 2016
Salon Balam, TAO Wellness Center
10am - 2pm\
One hour reading: $100USD. Recommended for all clients interested in energy movement, problem solving, in depth clarifications, manifesting higher consciousness and finding personal empowerment.
Half hour reading: $60 USD. Recommended for returning clients that are looking for an update with something they are working on.
Deepen your trust and learn to follow your intuition. Practice opening you subconscious mind and interpreting patterns, symbols and elemental sequences of the tarot deck.
Full details on Tegans´s website: http://www.tegan-tarot.com/, contact her at tegan.tarot@gmail.com or via Facebook
RECIPE:
Chipotle Chilaquiles
Chilaquiles is a basic Mexican dish created to use up leftovers like tortillas, chiles, shredded chicken and cheese. Rick Bayless keeps the recipe simple by doctoring canned tomatoes with canned chipotles in adobo, available at Latin grocers and many supermarkets.
TAOs Top Tip:
Xcacel Beach
If you'd like to experience what the fine Caribbean beaches were like before the Riviera Maya became a hot spot for Hollywood stars, honeymooners and vacationers, head to X'cacel beach. It's the #1 beach where turtles go, and a local favorite! Nestled away in a remote location, enjoy soft sand beaches, a small freshwater cenote and off shore snorkeling that is accessible from the shore
TAO Foundation
We are creating healthier communities, where equality, empowerment and opportunity are common. We are committed to fostering the fullest expression of healing relationships in this world, for people with themselves and their community, for those who have talent or resources to share, and for each and every one to realize their impact on and interrelationship with the natural world.
CONNECT WITH US!!






TAO Mexico | Carretera Federal Chetumal – Benito Juarez km. 250 L-16. Gran Bahía Príncipe Akumal, Quintana Roo, México, C.P. 77750 | 800-461-1037 | taomexico.com