Is this email not displaying correctly? Try the web version.
Dear TAO Family and Friends,
One thing that many of us love in common about the Riviera Maya is the power and beauty of nature. The ancient Maya's and many modern masters of stress management, health, success and well-being would tell you a simple and powerful life lesson: let nature be your guide.
Since the beginning of human time human beings have let nature instruct them on how to live well and how to adapt to the countless regions of the world. Nature has provided us with medicine, inspiration for art, and colorful patterns by which we design our clothes and households. Nature also acts as a metaphor and a symbolic force by which we may take our cues to reflect, renew, or create change.
Summer-like heat is moving in as we have crossed into spring the Riviera Maya. This heat, the endless blue skies, and warmer waters are a call to connect with the natural world in our Mexican home. Now is the time to explore cenotes, new beaches and hidden lagunas. The warmth and exotic settings of our region are an incredible setting for an experience of renewal. When you go explore, take an intention, make your travels into a special ritual of release, cleansing or even to seek a new energy on your life.
My quote of the month: Accept the challenges so that you can feel the exhilaration of victory - George S. Patton
Have a great month everyone!
Isaac Henares
Operations Director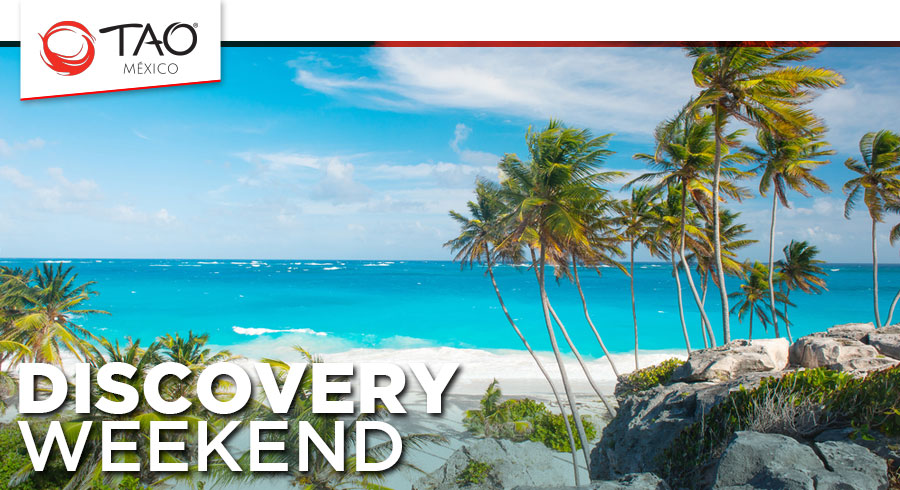 DISCOVERY WEEKEND
Come and join us for our next Discovery Weekend and find out for yourself why everyone is talking about the Riviera Maya and the new way of life at TAO Inspired Living.
Residential Area
TAO Lofts
TAO Lofts are the picture perfect and most unique piece of Real Estate created by TAO Mexico. They are also best option for the young investor, as they one of the most luxurious yet affordable Real Estate in the Riviera Maya, as well as the ideal investment for vacation rentals. Our amazing payment plan makes it very easy to invest and own your own piece of paradise in the best residential Golf resort community in the Mexican Caribbean. These TAO Lofts display modern architectural structures that are designed to flow and lead you from one level to the next. A dynamic experience of indoor and outdoor living spaces, with simple but versatile designs, that add an element of the unexpected to your home.
LOCAL NEWS:
Local Organic Markets
Puerto Morelos Farmers Market – Every Wednesday from 9 a.m. to 11 a.m. in the town center. The location changes so ask locally where the market is being held.
Kava Kasa Playa del Carmen – Every Tuesday from 11 a.m. to 2 p.m. on 22 Street between 5th and 10th Avenue.
CoCo beach Organic Market Playa del Carmen – Every Friday from 9 a.m. to 11 a.m. in Les Alizes Condos on CTM (calle 46) and Flamingos.
Papalote School Playa del Carmen – Every Wednesday from 1 p.m. to 3 p.m. 25th Avenue between 30th and 32nd Street.
Eco-Market Paamul Beach – Every Thursday from 9 a.m. to 11 a.m. Paamul is very small so drive to the beach and ask locally for the location that week.
Akumal Farmers Market – Every Wednesday AND Saturday starting at 10 a.m. The market is just inside the arches close the basketball courts.
LOCAL NEWS:
NEW Monkey Sanctuary in Playa del Carmen
The La Vereda de Xcalacoco Animal and Environmental Sanctuary will be a national sanctuary for spider monkeys after many of these animals were rescued and brought to the sanctuary after being displaced by the construction of hotels in the area.
LOCAL NEWS:
Underwater Museum shows Cancún is not only about spring breakers and tequila shots
The "Museo Subacuático de Arte" (Underwater Museum of Art) in Cancún aims to demonstrate the interaction between art and environmental science and form part of a complex reef structure for marine life to colonize and inhabit whilst increasing biomass on a grand scale.
LOCAL NEWS:
10,000 year old remains found at Balam Cenote
In the Balam cenote located in the ecotourism community of Uxuxbi, remains were found which could be more than 10,000 years old, confirmed Eugenio Aceves, director of the Prehistoric Institute of the Americas.
LOCAL NEWS:
A look around TAO INSPIRED LIVING- TAO Communiy
Enjoy this high end residential community that celebrates wellness living and a holistic approach to design of interior and exterior spaces. TAO's town houses, condos, lofts, penthouses and beachfront residences were all planned and designed to suit your lifestyle requirements, while encouraging a healthy peaceful living and a sense of belonging. TAO Mexico® residential complex is located in one of the most beautiful locations in the world and offers exceptionally unique adventures that the members of our community can enjoy all year long.
Upcoming events In April
Cesar Millan live at Sandos Caracol!
On April 22 - 24, 2016, Cesar Millan will be at Sandos Caracol to offer exciting and entertaining dog training demonstrations. If you're a dog-lover like us, this is an event you won't want to miss out on!
Upcoming events In April
Riviera Maya Film Festival
21st-27th April
Both Playa del Carmen and Puerto Morelos will host outdoor film screenings for the fifth edition of the Riviera Maya Film Festival. The available film screenings that you can enjoy include the Mexican Platform, undoubtedly one of the most interesting at the event; Planetarium, which focuses on world affairs; Wide Audience, with films aimed at mass audiences; Authorial Panorama, which features alternative storytelling and production methods; and RivieraLAB Presents, with the latest projects.
Upcoming events In April
The Wine and Food Festival 2016
27th – 30th April
The Wine and Food Festival features world-renowned sommeliers, top wine makers and more than two dozen of the best chefs in the world together in Cancun and the Riviera Maya. Conferences with Top Chefs, Wine & Spirit Tastings, Cooking Classes, Gala dinners, Star Chefs dinners and a Gourmet Tasting Village.
Upcoming events In April
Children's Day
Nationwide, April 30th
In Mexico, everyone has their day and children are celebrated every year on April 30th with parties and events throughout the country.
COMING UP IN MAY!
Havana, Cuba May 2016
Close your eyes for a moment and imagine you are there. Waves crashing against a mildewed sea wall; a young couple cavorting in a dark, dilapidated alley; guitars and voices harmonizing over a syncopated drum rhythm; sunlight slanting across rotten peeling paintwork; a handsome youth in a guayabera shirt leaning against a Lada; the smell of diesel fumes and cheap after-shave; tourists with Hemingway beards; Che Guevara on a billboard, a banknote, a key-ring, a t-shirt…
RECIPE: Mexican fish tacos
I've served these incredible fish tacos with all the trimmings – chunky guacamole, sweet pineapple salsa, garlicky sour cream and a jalapeño-spiked slaw – this is to die for.
TAOs Top Tip:
Enjoying a refreshing swim at Cenote Calavera
Nationwide, April 30th
Cenote Calavera, which means "Skull Cave", is also known as "Temple of Doom". It is located just outside of Tulum, on the road to Coba. Completely different from any other cavern in the area, the entrance passes through a round hole on the surface rock. The adventure starts almost immediately, as you need to jump about 3m to the water's surface. The cavern area is a huge rooms with a hill of sediments and rocks in the center.
TAO Foundation
We are creating healthier communities, where equality, empowerment and opportunity are common. We are committed to fostering the fullest expression of healing relationships in this world, for people with themselves and their community, for those who have talent or resources to share, and for each and every one to realize their impact on and interrelationship with the natural world.
If you would like to find out more about the TAO Foundation please contact foundation@taoinspiredliving.com or check out our website
CONNECT WITH US!!






TAO Mexico | Carretera Federal Chetumal – Benito Juarez km. 250 L-16. Gran Bahía Príncipe Akumal, Quintana Roo, México, C.P. 77750 | 800-461-1037 | taomexico.com