Dear Friends of TAO,
Now that 2013 is in full swing, many people are asking – did the world really change in 2012? What about all my resolutions? Spring is a great time to re-commit to promises and intentions set in the passion of a new year.
What did you want to change in 2013 and what are you doing about it? What commitments did you make at the turn of the year and how are they going? What's holding you back? Here are a few tips to help you keep on track with your wellness resolutions and other promises:
Keep a Calendar: Monitor your progress where you can see it and review. It will help keep you accountable.
Get a Coach: Talk to someone who already did what you want to do and learn more about how they did it.
Baby Steps: Yes – you hear it all the time, but it helps to set smaller clearer goals.
Just Do It: I am not sure if that has a copyright on it, but it is true: there is no better time to start or start over. Do something about your intentions today. Don't wait.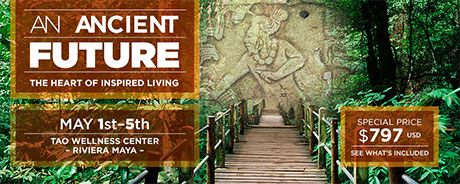 Of course attending an event at TAO can help too! This May we have one of our best priced events of the year, An Ancient Future, at $797 USD for four nights, including the workshop, private beach club, Wellness Center access and classes and a powerful exploration of the wisdom of ancient cultures and the natural world.
Check out our event calendar and the other amazing things coming up, including Don Miguel Ruiz, Gregg Braden and our two incredible Healing Journey events for caregivers and healthcare professionals and their program for people living with a life changing illness.
Make a commitment to a better you today and let us help along the way!