Greetings TAO Family and Friends,
The summer is an unusual time to think about transformation and change for many people today. Summer's tend to be a bit easier than the rest of the year: more vacations, nicer weather, and more time outside. But in ancient cultures around the world our ancestors thought a lot about transformation as the summer progressed. Summer was a time when people watched the ripening of their crops and the landscape that fed them. It was a time to observe how the things they planted were coming to fruit - or not.
Summer is a good time for all of us to take the extra moments we find to look and reflect on our life, our relationships, our work and how the things we have created are thriving or not. There is always so much to learn. This idea of being a "life-long learner" and embracing our power to change for the better is a hallmark of TAO Inspired Living and its the key message in our fall featured event with legendary author and speaker Jack Canfield.
Widely known as one of the world's most effective success coaches for business people, Jack is also well established in the field of personal growth and potential. The TOTAL TRANSFORMATION event is the perfect answer to the summer search for "what's next," "am I at my best," and "how can I acheive what matters most to me?"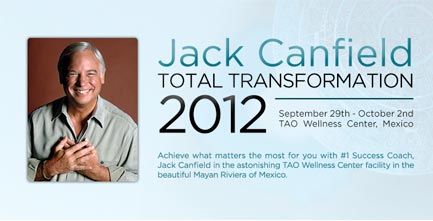 Powerful and practical, the Canfield event reminds us that after we move through the summer season of reflection and evaluation, we are ready for tools and a trusted process to help us make our dreams come true.
All of us at TAO are wishing you a beautiful summer and hope you will find the time to review all that you are grateful for and all that you have yet to give and become - and maybe you will join us in that process!
If you are interested in being part of this unique event, we recommend you to act NOW. The event is limited to 85 fortunate people. You can see detailed information of the event HERE.
With blessings,

Jonathan Ellerby Ph.D. C.E.O. TAO Inspired Living