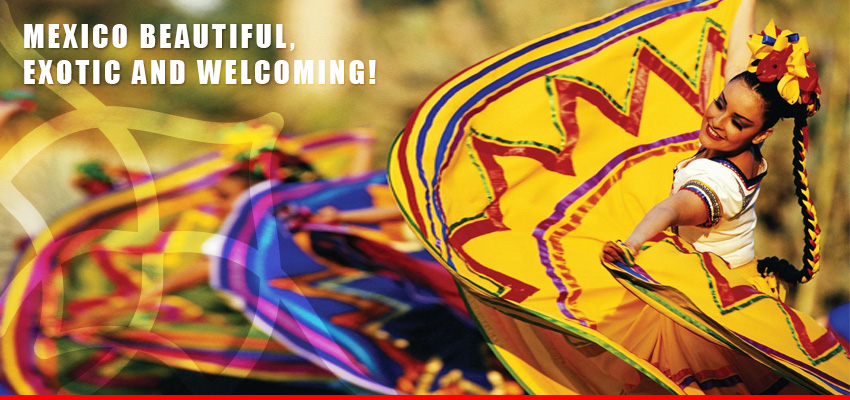 Retirement is like a second chance of life, and you have surely imagined spending it in a place where you can be in touch with nature, enjoying your favorite hobbies, living in an active community where you can greet your neighbors in the street, having them answer with a smile. Perhaps you´ve dreamed of a place near the ocean, where, despite the tranquility you will receive the best medical care and the services to which you are accustomed. This place does not only exist in your dreams, it is a real place in MEXICO.
| | | |
| --- | --- | --- |
| | | Mexico is one of the most visited countries in the entire world, and it has been the undisputed number one destination to 1 million Americans and 1 million Canadians retirees. Some people choose Mexico for its rich Mexican culture, the kindness of the people, the variety of their food, the warm climate, but especially for the low cost of living. |
With a tremendous amount of natural beauty, Mexico offers many diverse retirement lifestyle choices, everything from snowy mountains to sparkling beaches. One particularly costal retirement choice is Riviera Maya, where you can own a 2 bedroom condo for as low as $200K USD.

Now if you are looking more for a second home or an investment property; Know that with over 22 million tourists per year, there is no doubt you can yield good return on investment specially in the Riviera Maya, where last year hotel occupancy was close to 80% year round.
Mexican culture is one of the richest and most hospitable cultures in Latin America. Blessed with an exquisite cousin which is classified world heritage by the UNESCO, excellent medical services for 1/3 of the cost compare to the USA, low property taxes, TEQUILA and MARIACHI.
Contact us, we can help you find your little piece of paradise in Mexico!
| | |
| --- | --- |
| | Follow us and keep up to date with all of the motivational tips and Events. |
| | Have you seen our latest review?See it here. |

| | |
| --- | --- |
| | Click here to see our latest video on the TAO Wellness Community. |
TAO Mexico | Carretera Federal Chetumal – Benito Juárez Km 250. Gran Bahía Príncipe
Akumal, Quintana Roo, México. C.P. 77780 | 1 800-461-1037 | www.taomexico.com