Can't read correctly this mail? Try the web version.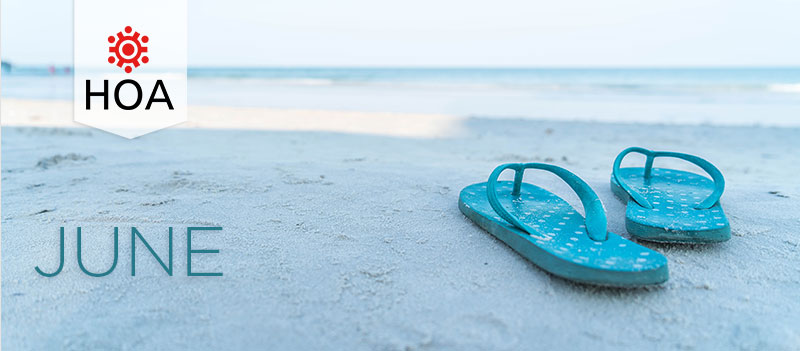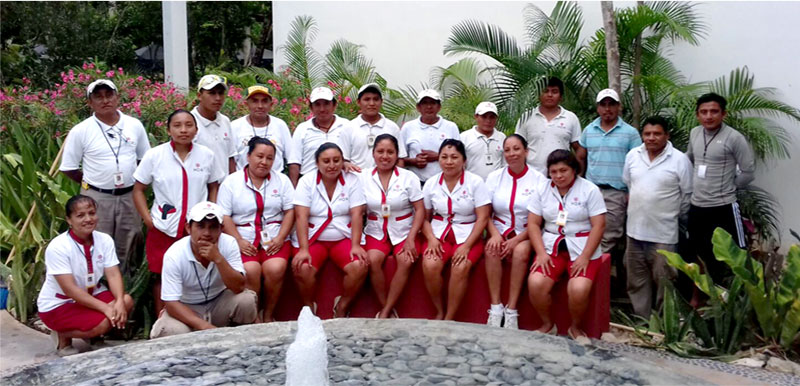 HOA TEAM

| | | |
| --- | --- | --- |
| | Rain season we program complete maintenance to all the drainage covers and sewer systems including downspouts in order to have a better fluid from the rainwater to avoid any puddles. | |

| | | |
| --- | --- | --- |
| | Do to the winds and rain these past days we had to trim down a couple of dead trees; we did not want to take a risk in them falling and doing damage to units or someone. | |

| | | |
| --- | --- | --- |
| | To improve the quality of the water in the community we have made preventive and corrective maintenance work to the water softener, it was an extension work where the cistern was cleaned, they were given serve to the pumping systems, and they have changed damage wires as well as the valves and electronic equipment. Finally painting and water proofing were carried out and an air extraction system was installed is the softener installations. | |

| | | |
| --- | --- | --- |
| | The ant operation (Operacion Hormiga) done by the HOA staff, this activity is done 2 times a month. | |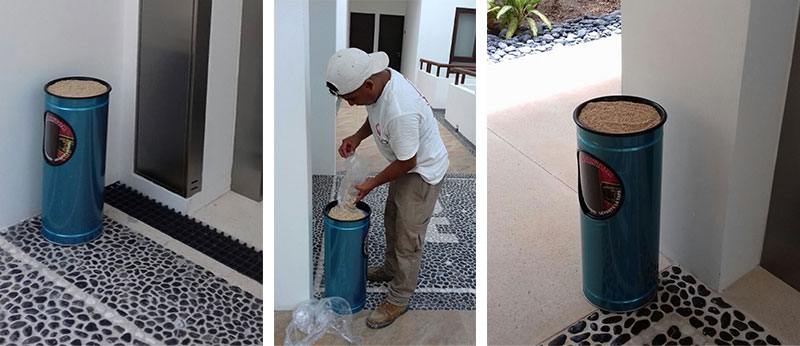 | | | |
| --- | --- | --- |
| | We continue placing the fire extinguishers throughout the community. | |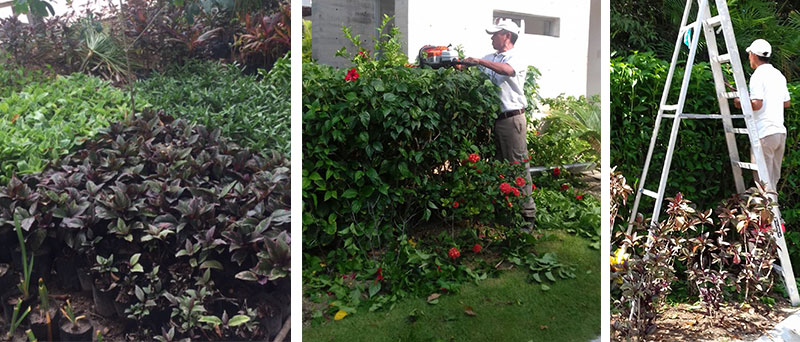 | | | |
| --- | --- | --- |
| | Our gardening team is doing a very good job with our nursery, we have more than 1750 plants, at the same way they are working hard with the gardens that now in the raining season grow very fast. | |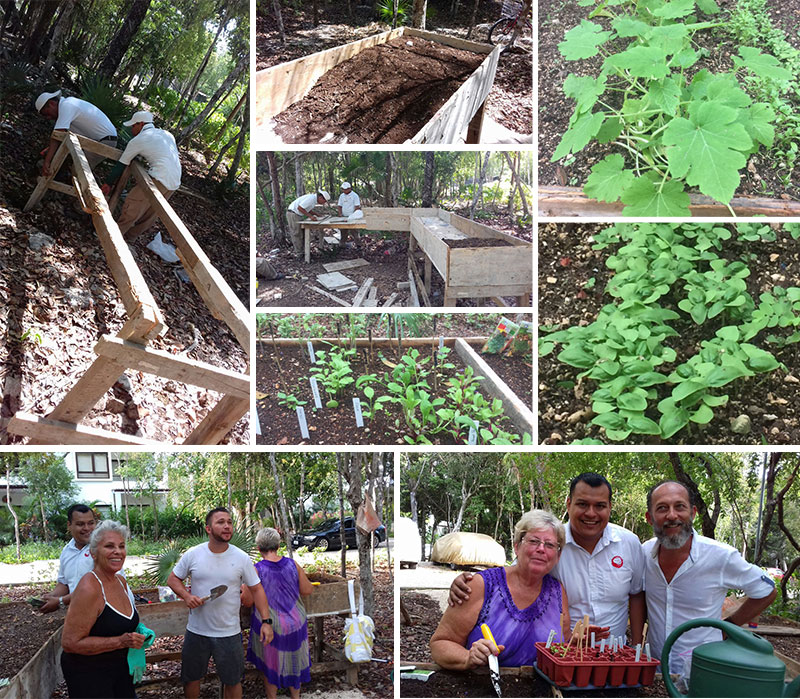 | | | |
| --- | --- | --- |
| | We have started working on or canche the 1st of June, it has only been a month and our plants are growing so fast. Thank you to for helping us with this activity. | |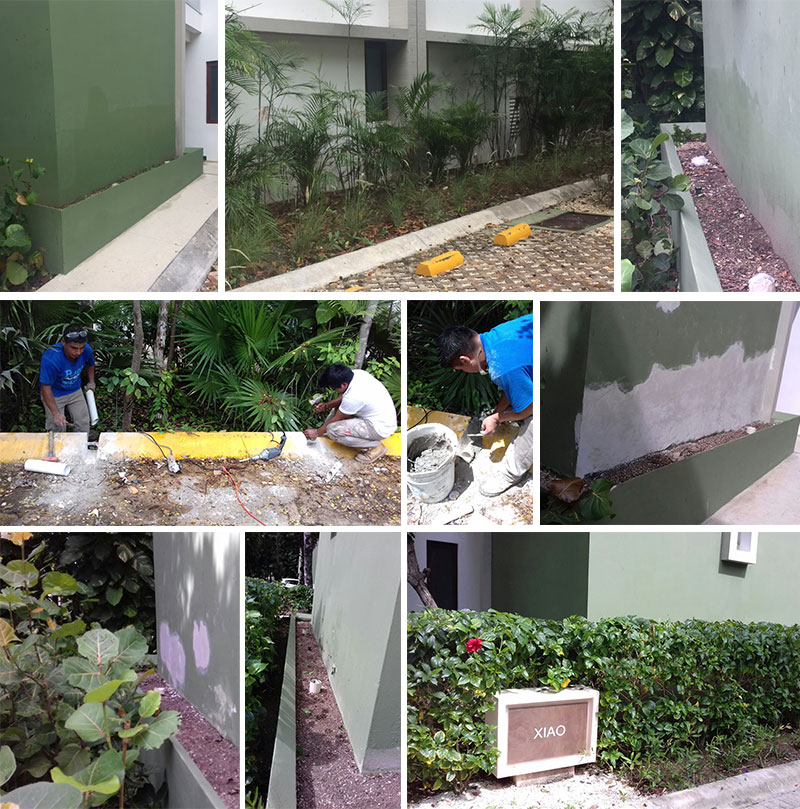 | | | |
| --- | --- | --- |
| | We have changed the main garden of Xiao building; we also painted the parts of the buildings that were in bad condition, the irrigations system and the lighting were repair in this area. | |
TIP OF THE MONTH



RAINING SEASON IS COMING.

We recommend you to clear and don't have anything that can fly in your balcony or terrace, when it rains we have a strong wind that can make this things fly and hurt someone or damage vehicles or other property. Couple of days ago we had this piece of polycarbonate that flew out of pergola in one of the units; fortunately it didn't do any damage it flew into the trees.

It is important to mention that if you have an item that can fly and this fly and does any damage you are responsible for this and you will have to pay the cost of the repair.

FAQs – June Newsletter



The Wellness Center

Q. Recently, Tao homeowners received a two question survey proposing options for paying additional fees for the Wellness Center. First, why is it necessary to charge homeowners for this when a multiyear 'membership' is included in most cases? And, if additional funds are required to support the facility, what is the fairest way to accomplish this?

A. The operation and maintenance of the Tao Wellness Center has become a significant financial burden for Tao. It is not being financially supported by the HOA, yet use of the Wellness Center and adjoining exercise room is increasing to the point where some additional financial subsidy is required to ensure the facility remains in good condition. Tao management is currently reviewing options to do this and sent out the survey as part of this effort. One option was charging only homeowners who rent their units a fee, assuming that their renters would use the facilities. Another option was to charge all homeowners a smaller amount to spread the cost among a wider group. Neither of these two options was considered acceptable by a majority of the homeowners who responded to the survey.

Use of the Wellness Center is included in homeowners' contracts, although the length of the agreement varies. The contracts do not specifically provide for use by guests or visitors, however. The idea of charging a user fee was thought to be preferable to a complicated administrative approach that would increase operational costs. While it is understandable that homeowners may feel that they are being charged twice for something that the HOA is not responsible for, the Wellness Center has become a major part of the Tao "brand" and has proved to be a unique and valuable benefit to homeowners, whether they use it or not. Tao management is reviewing all comments received with the HOA board and further researching this issue. Apart from Tao homeowners, only guests at Sian Ka'an and other Bahía Principe hotels have access to the Wellness Center and they must pay a user fee. Tao management is continuing to research an equitable way to support the Wellness Center that is fair to homeowners, renters and hotel guests alike.

Q. Is there a long range business plan for the Wellness Center? It seems like a very underutilized facility that could be expanded to include more and better activities – activities that could be supported by a 'pay as you go' approach. Can homeowners and/or the HOA help with this? There is a lot of interest and creativity in the homeowner community that could be directed to help solve this funding problem.

A. There are several initiatives being considered to help fund the Wellness Center. For example, Sinda Wood has volunteered to organize, plan and conduct various activities with several others, supported by Tao. The group is currently working on a proposed schedule of events for the high season as well as throughout 2018. The goal is to provide homeowners and others with quality, stimulating events and experiences and to help achieve self-sufficiency for the Wellness Center.

Tao management welcomes input from any interested person or group. More information on the Wellness Center funding issue will be communicated to all homeowners soon!



The Beach Club

Q. The new Beach Club is finally open! Tao homeowners who have been there have all said wonderful things about it. Who is allowed to use the Beach Club and who is responsible for maintaining and operating it?

A. The Beach Club is available to all Tao homeowners, as well as their guests and renters. Like the Wellness Center, the Beach Club is owned and operated by Tao – the HOA has no related responsibilities.

Q. The main issue with the Beach Club seems to be access. How are homeowners supposed to get to it? It's a long walk that involves crossing a major highway that can be dangerous to pedestrians. Currently, there is no parking available near the Beach Club, so even if you had transportation that doesn't seem to be an option. The taxi option is expensive and is impractical for the return trip to Tao. There has been talk about a shuttle, but the details are still unknown – who would pay for it, how often would it run, etc. What is the current thinking about providing transportation to and from the Beach Club?

A. The HOA Team has been working diligently to address this issue. Ricardo and his team, working jointly with Tao management, Tao Ocean residents, and the local taxi union have come up with some good solutions. Tao Ocean HOA and Tao management have agreed to build 10 visitor spaces for use by visitors of the Tao Beach Club. Additional 10-12 parking spaces will be provided on the main road leading to the Beach Club. Details about these new parking facilities will be available very soon. Also, the taxi union has agreed to a fixed price of $150 Pesos per trip for transport to and from the Beach Club. The taxi posted at the Tao entrance can take people to the Beach Club, and a number will be provided to call for the return trip. These options should meet the needs of owners and renters, so there will be no HOA funded shuttle service.

Q. Many homeowners are aware of another 'beach club' that used to exist at the Akumal Resort Hotel beach, near the SCUBA shop. Bahía Principe Group was going to construct another beach club in the area that was supposed to be open to Tao homeowners, as well as Bahía Principe owners. Is this true – and, if so, what is the status of this commitment?

A. Bahía had originally proposed to build a Beach Club for all Bahía residents, which was the basis for the inclusion of a beach club in Tao marketing materials. Rumors that this Bahía Beach Club was being built near the scuba shop proved to be untrue; it ended up being the Dolphin attraction. Since this amenity had been promised to Tao purchasers, Tao management decided to build a separate beach club for homeowners. Bahía continues to promote a beach club for residents, but no construction has been started. It continues to be a "future" amenity, with an undetermined delivery date. If and when that beach club is completed, we expect Tao residents will have access.

Q. Now that the Beach Club exists, can Tao homeowners still use the facilities at Sian Ka'an and Tulum resorts? Are there plans to continue to provide shuttle service to Sian Ka'an from the Wellness Center? Is the HOA paying for this shuttle service – is it an item in the current budget?

A. Yes, Tao homeowners and guests still have access to Sian Ka'an and Tulum resorts. The Beach Club and Bahía facilities are unrelated. However, Tao residents must wear the yellow wristbands that identify them as owners. Homeowners must arrange to pay separately for any food or drinks at these facilities and can make arrangements at the Golf Club. Shuttle service from the Tao Wellness Center to Sian Ka'an and then across the highway to Tulum Resort continues and can be used by all Tao homeowners. The HOA is not paying a separate fee to Bahía for this service. There was a budget item for a Tao HOA provided shuttle service, but that became unnecessary once Bahía started providing that service.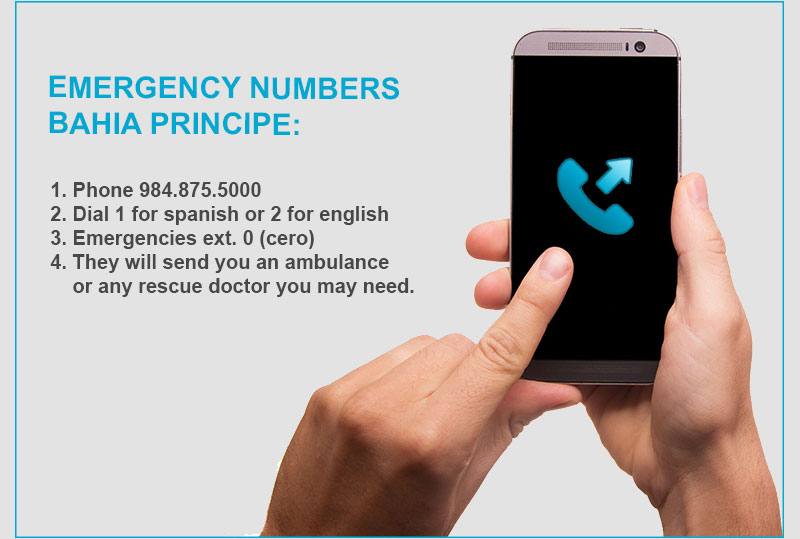 Air Condition Maintenance
David (984) 131 5044

Plummer and Electrician, Handy Man
Humberto Morales (984) 164 1311

VIP General Services
Richard Nadeau (984) 207 8025

Executive Chef
Rubén López (984) 130 4176
rely01300@hotmail.com

Fumigation and Cleaning of Furniture
Leopoldo
leosofaclean@gmail.com


Please do not hesitate to contact us if you have any further questions.


Warm regards,
RICARDO MAYA
HOA Manager
hoamanager@hoatao.com

YURITZIA CAMPILLO
Customer service
payments@hoatao.com

ANTONIO JIMÉNEZ
Communications Manager
communicationsmanager@taomexico.com

STACEY OLIVO
Accountant
contabilidad@hoatao.com

CONNECT WITH US