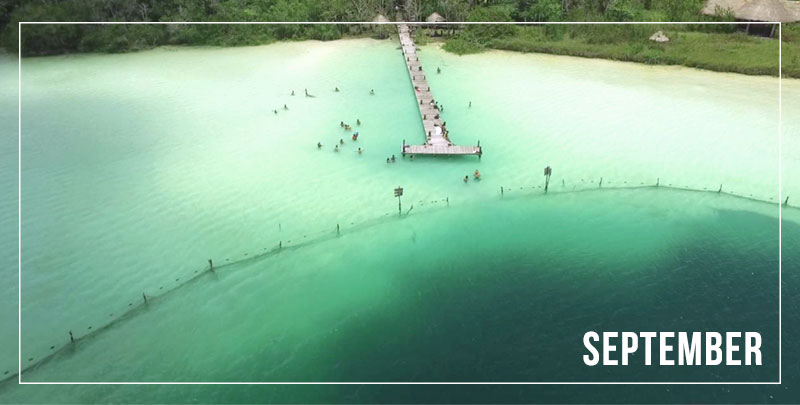 Viva México! It's Independence month for all mexicans and a time to celebrate and elevate Mexican gastronomy and traditions, also a good time to explore Mexico's natural and cultural richness, Tulum for example, an archaeological site that has both, an astonishing natural environment perfect for sightseeing, as well as a vast cultural demonstration of a Prehispanic civilization that once marked all of mankind with their discoveries.

This month also holds in place two important races; The Half Ironman in Cozumel and the Xplor Bravest Race Elements. Both are great opportunities to test yourself or to witness this exciting athletic competitions.

Remember to take time for yourself and look to have wonderful experiences such as freeing a baby sea turtle and watch it take it's way to the water with amazing determination. Get in touch with nature and animals, and find yourself some time to quiet your mind and just breath. Find the innermost essence of you.

"The greatness of a nation and its moral progress can be judged by the way its animals are treated."

― Mahatma Gandhi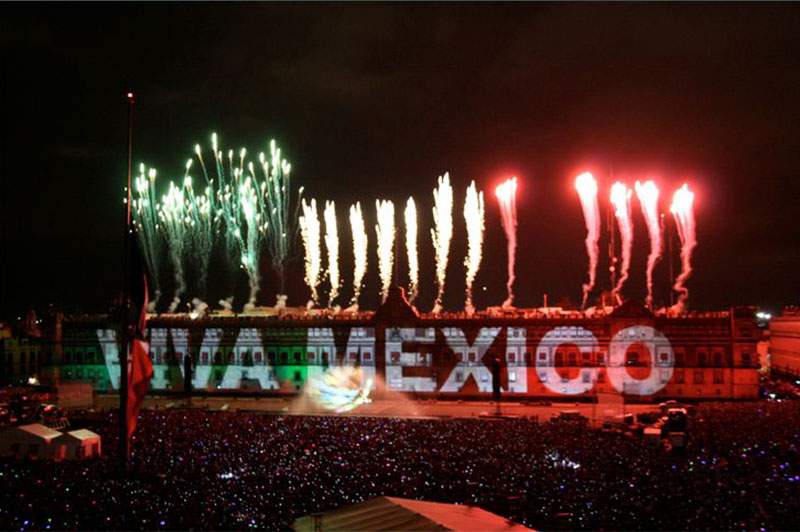 "¡Viva México!", is a phrase always said on September 16th. September 16, 1810, marks the start of the Mexican Independence, the day when priest Miguel Hidalgo urged Mexicans to rise up against the harsh and cruel government of Spain. The phrase is often referred to as the Grito de Dolores or Cry of Dolores these days, named after the town of Dolores –now Dolores, Hidalgo-where the cry was originally spoken. Independence was not achieved immediately, but that day—and its uprising—is typically considered the beginning of the war that eventually set the country free in 1821.

Though September 16 is a day of full-blown festivities, celebrations of Mexican Independence Day actually begin at 11 p.m. on September 15th, when Mexico's president, rings the bell at the National Palace in Mexico City, and repeats Hidalgo's famous words to crowds that gather around the Plaza de la Constitución, or Zócalo, one of the largest public plazas in the world. After each line, the spectator's chant back, "¡Viva!". This also takes place in almost all the cities in the country, being the mayors, or other authorities the ones that make the call -"El Grito de Independencia"-
¡Mexicanos!
¡Vivan los héroes que nos dieron patria!
¡Viva Hidalgo!
¡Viva Morelos!
¡Viva Josefa Ortíz de Dominguez!
¡Viva Allende!
¡Vivan Aldama y Matamoros!
¡Viva la Independencia Nacional!
¡Viva México! ¡Viva México! ¡Viva México!


Mexicans!
Long live the heroes who gave us our homeland!
Long live Hidalgo!
Long live Morelos!
Long live Josefa Ortíz de Dominguez!
Long live Allende!
Long live Aldama and Matamoros!
Long live the independence of our nation!
Long live Mexico! Long live Mexico! Long live Mexico!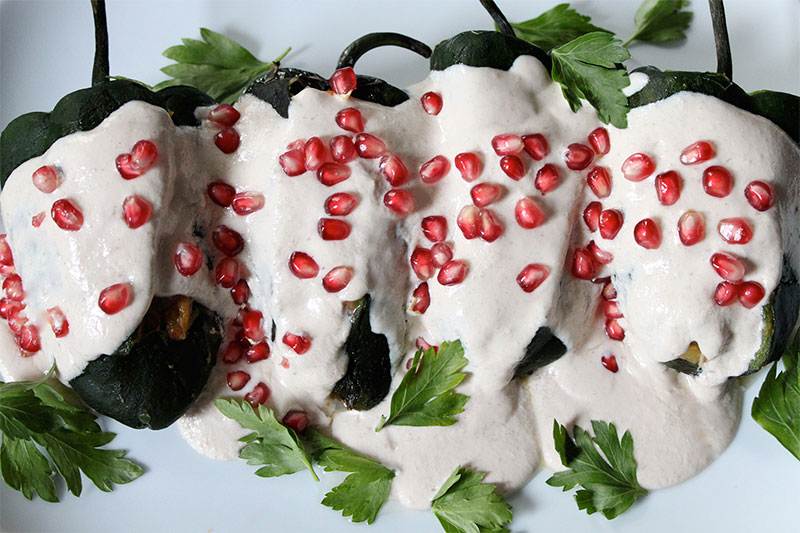 One of the dishes that represents the pinnacle of authentic Mexican cuisine, is definitely chiles en nogada. It was originally cooked up by Augustinian nuns at the Santa Monica Convent, in Puebla, to honor Agustín de Iturbide when he entered the city along with his troops. Iturbide, as you may recall, co-wrote the 1821 peace treaties with Spain and later served as Mexico's emperor; curiously, the revolutionary emperor and the nuns share a name by mere coincidence.

Each plate had the red, white, and green colors of the new national flag. The elaborate dish calls for a Poblano chile pepper that's roasted and stuffed with a picadillo (ground or chopped meat with seasonal fruits such as apples, peaches, and pears), dunked in egg batter and fried, and then topped with a creamy walnut sauce, pomegranate seeds, and parsley leaves. The nuns represented the flag which had been just created for the new nation, as each plate had the red, white, and green colors. Chiles en Nogada are definitely one of the most delicate and representative dishes in Mexican gastronomy. A must try in September!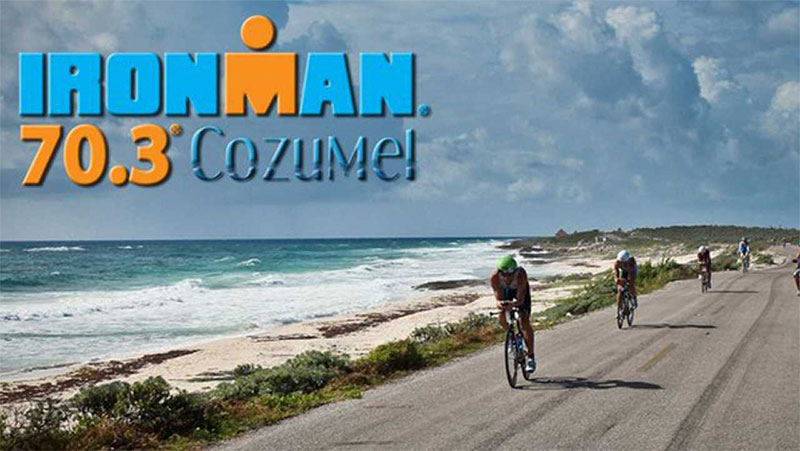 Ironman 70.3, also known as a Half Ironman, is one of a series of long distance triathlon races organized by the World Triathlon Corporation (WTC). The "70.3" refers to the total distance in miles (113.0 km) covered in the race. This September 24th marks the date for the 2017 Ironman 70.3 Cozumel, the distances to be covered are: 1.18 miles swam (1.9 km); 56 miles biked (90.1 km) and 13.1 miles ran (21.1 km), roads will be closed and over 1,000 athletes will be gathering for this important sport event.



More information and registration can be found in:




Sea turtle nesting season in Riviera Maya, runs from May through late October each year. Dangers for these eggs include animal predators, as well as unknowing beach-goers who might accidentally step on a nest. To keep the sea turtle nests out of harm's way, most hotels move the nests on their beach into a temporary wire-fenced pen in a safe area, marking each nest with its date and species.

From August through early December, once the eggs have hatched, a lot of Riviera Maya hotels host baby sea turtle releases in the early evenings. Although recent laws prevent untrained people from touching the baby sea turtles, hotel guests are invited to come to the beach at sunset to watch a certified handler free the baby sea turtles so they can make their way to the ocean without fear of being caught by a predator on their way.
Can you imagine a race in the beach? Would you run through one of the most interesting enviroments out in the jungle? If you are an adventurer and you want to test your fitness in one of the most beautiful trails you've seen, then this is the race for you.

Along natural, man-made, and incidental obstacles the elements will play for and against you to challenge your physical and mental stamina in this one-of-a-kind race. On your path, you will find Elementals, human representations of wind, earth, water and fire, where one will be your ally to help you succeed, depending on the element you chose at the time of registration, and the others will be your rivals and will play against you.

Choose the element you most identify with to be your ally for Xplor Bravest Race Elements between water, earth, wind and fire. Test your strength, endurance and coordination in a fun obstacle race this September 17th!




Studies have shown that cuddling a pet, most likely a cat or a dog, releases the "cuddle chemical" oxytocin in both human and pet. This miraculous little chemical has a calming and soothing effect that leads to the development of a strong bond between pet and owner. This bond can be as intense as that in many human relationships, and may confer similar health benefits.

There are numerous health benefits of owning a pet. These range from improved cardiovascular health to a reduced risk of asthma and allergic rhinitis in children exposed to pet allergens, and better overall physical and psychological well-being.

If you are planning on having a pet, you might consider adopting one, there is an organization in Playa del Carmen for doing so, you can find more information about it in their website:




| | | | | |
| --- | --- | --- | --- | --- |
| | Tulum ruins are located 130 km south of Cancun and are considered by many as the most beautiful of the Mayan Ruin sites around Cancun. The ruins are small, but exquisitely poised on the fifteen-meter-high cliffs above the blue waters of the Caribbean Sea. Tulum has one of the most beautiful beaches in the Caribbean too. It is the site of a pre-Columbian Mayan walled city serving as a major port for Cobá. Tulum was one of the last cities built and inhabited by the Mayans; it was at its peak between the 13th and 15th centuries and managed to survive around 70 years after the Spanish began occupying Mexico. | | | |
Tulum has a beautiful architecture, typical of Mayan sites on the East Coast of the Yucatan Peninsula, recognized by a step running around the base of the building which sits on a low substructure. There are three major structures of interest at the Tulum site. El Castillo, the Temple of the Frescoes, and the Temple of the Descending God, are the three most famous buildings.

Tulum ruins are exceptional and depict perfectly the Mayan architecture and arts. It's one of the most beautiful archaeological sites in the world!