Greetings from TAO!
We truly appreciate your interest in the Tao Inspired Living Community, and especially in participating in one of our upcoming Chill Weekends! It`s a great opportunity to familiarize yourself with TAO, gain valuable insights into investing, learn what it`s like living in Mexico, and enjoy what the Riviera Maya has to offer!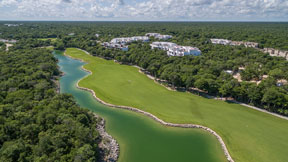 Experience It for Yourself!

Stay for 4 days, 3 nights for just $180 USD per person

Includes:

* Lodging at the TAO Community
*Meals, Drinks, and Curated Experiences
*Plus, we'll pick you up at the Cancun (CUN) airport
| | | |
| --- | --- | --- |
| | | |
| | I recently came down to visit TAO to get acquainted with the project and found that 'it fit the bill'... Everything about the property was A+... a 5-star opportunity and I can't wait to start living part of my life in Mexico... The team has been great to work with - from Benjamin all the way down to the guys driving the bus. Quite honestly, I couldn't recommend them higher and I wish I had more money, because I'd buy more! - Paul K. | |
| | | |
Lofts




Modern style architecture lofts with one or two bedrooms, well-equiped kitchen, living room, and terrace. Each Loft allows owners to indulge in sweeping views and a dynamic experience of indoor/outdoor living spaces.

Townhomes

The Townhomes boast a wonderful play of natural light and open space. The outdoor living space merges with the Mayan jungle and allows residents to enjoy the natural surroundings from the comfort of their backyard patio.

Condos

Designed to offer residents a balanced space between interior and exterior areas, the Condominiums have been created to provide and overall sensation of spaciousness while providing a visual continuity between the rooms and exterior terraces.
Chill Weekend Dates


2016

* July 21-24
* August 4-7 (RETA ONLY)
* August 18-21
* September 1-4 (RETA ONLY)
* September 22-25
* October 6-9 (RETA ONLY)
* October 20-23

If these dates still don't suit you, we'd be glad to make arrangements for a Private Chill Weekend. Simply let us know the dates for the weekend of your choice.

FOR REGISTRATION FORM (PLEASE CLICK HERE)

| | | |
| --- | --- | --- |
| | I have been coming to Mexico for the past 25 years and I've finally found the perfect place to live… I am a TAO homeowner - I am so thrilled!!! - Sandra S. | |
Copyright © 2016| TAO Inspired Living