Is this email not displaying correctly? Try the web version.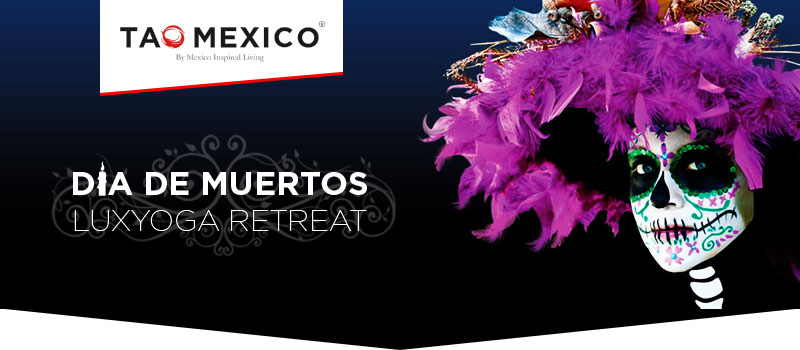 DIA DE MUERTOS LUXYOGA RETREAT (NOVEMBER 1ST - 4TH)
Join us for a cultural and spiritual journey to the Riviera Maya. Give yourself the gift to revitalize your spirit in an unforgettable and soul enriching getaway. Let´s honor all souls that have elevated and are watching us from above on this very special Mexican Holiday, Dia de Muertos.

Our retreat will be hosted at TAO Wellness Center a lovely sanctuary that blends perfectly with the jungle treetops. Located inside Bahia Principe Resort Community in the Riviera Maya.

Accommodation: TAO's condominiums are all planned and designed to suit our Yogi´s requirements. These two bedroom, two bathrooms will be a cozy nest for Dia de Muertos LuxYoga Retreat.

All Meals and Beverages are Included: Your gastronomical experience will be exquisite whether you are a vegetarian or not. You´ll indulge into one of the few cuisines that are classified Heritage of Humanity by the UNESCO-Mexican Food!

Transportation: All ground transportation is included.
Programmed Activities:
Yoga: All levels Welcome! We offer many different styles with multiple instructors.
Temazcal Ceremony: A pre-Hispanic tradition (similar to a Sweat Lodge) guided by a local Shaman to reconnect with nature and achieve a state of mental and physical relaxation in order to detoxify physically and mentally. The Temazcal in Mexico is an ancient ritual that unifies the 4 elements in a process that includes aromatic herbal steam, created by the interaction of volcanic rocks with fresh water of the Caribbean.
Ahau: A true paradise in Tulum! Practice Yoga with a view to the warm Caribbean waters, relax in hammocks and indulge great organic Tacos.
Xcaret Festival de Vida y Muerte: Be prepare to experience one of the most ancient Mexican Traditions with Cempasuchil flowers, copal scent, candle lights and intense colors for celebrating the Death.
Xpuha Beach: Paddle Board Yoga, then quench your thirst with a Mexican beer while working on your perfect tan.
Private Cenote Tour and Mayan Dinner: No words can explain this mesmerizing experience. You´ll be walking throughout underground caves full of stalactite and a stalagmite. At the end; the sky will open up and you will come to clear-blue water. You´ll relax and swim, before savoring the most delectable organic cuisine prepare by a local Mayan Family.
Candle light Mayan Massage: 1 hour of relaxation!

ITINERARY
Sunday November 1st.
6:00 PM
Dinner
9:00 PM
Candle light yoga at TAO
Monday November 2nd.
7:00 AM
Yoga with local yogi at TAO (optional)
9:00 AM
Detox Smoothie
9:30 AM
Temazcal Ceremony (Sweat Lodge)
11:30 AM
Lunch
1:00 PM
To Tulum
2:00 PM
Yoga at Ahau
4:00 PM
Early Taco Dinner at Ahau
6:30 PM
The Festival of Life and Death Traditions in Xcaret
Tuesday November 3rd.
7:00 AM
Yoga with local yogi at TAO (optional)
9:00 AM
Ommm Smoothie
10:00 AM
Yoga at TAO
11:30 AM
Lunch
1:30 PM
Paddle board Yoga at Xpuha Beach
4:00 PM
Cenote Tour
8:00 PM
Dinner at Cenote
9:00 PM
Candle light Mayan Massage
Wednesday November 4th
7:00 AM
Good Bye Yoga and Breakfast
9:00 AM
Departure
CONNECT WITH US
| | |
| --- | --- |
| | Mexico Inspired Living | 2000 Edwards St Building A Studio #107 Houston Texas | +1(832) 799 1406 www.taomexico.com |