Hola, INSERT NAME,
Thank you for your interest in the #1 investment and lifestyle community on Mexico's Riviera Maya coast. This community is called TAO.
Mexico's Riviera Maya is a beautiful Caribbean coast with some of the world's finest beaches – power-soft sand, crystal-clear water, swaying palm trees. It's postcard perfect: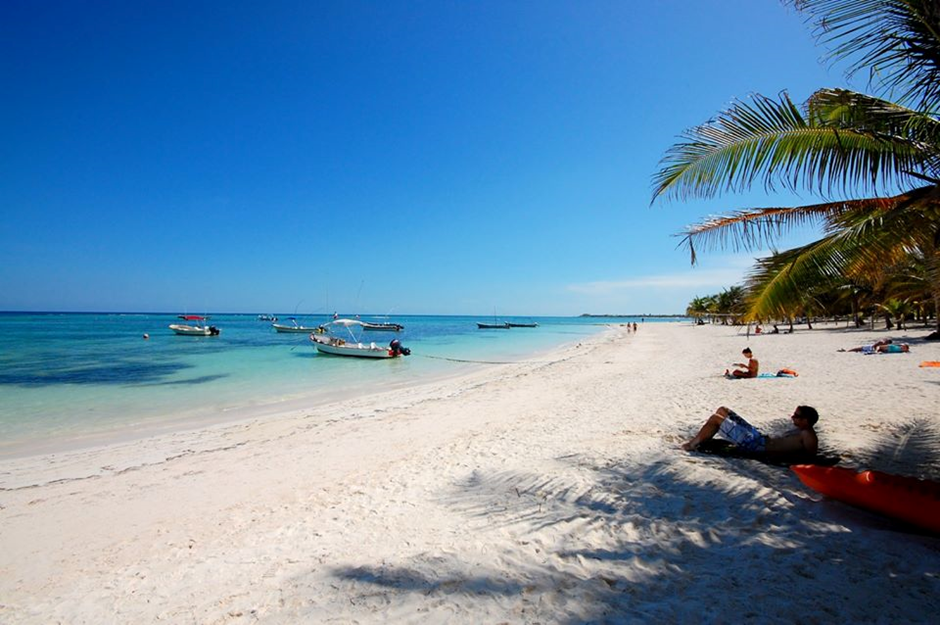 It's got great infrastructure (an international airport with direct flights across North America, smooth highways, modern hospitals, big-box stores and lots of shopping options). And it's also home to some great amenities. Of course, there's the beach for swimming, sunbathing, snorkeling, boating (or just lazing the afternoon away in a hammock!)
The Riviera Maya offers lots more to do, though, with more than a dozen golf courses, along with day spas, water parks, fun nightlife and festivals that run from jazz to food to movies.
It's a great place for a second home. And you can profit, too. The Riviera Maya is one of the fastest-growing tourism destinations in the world. More than 4.5 million tourists visited the Riviera Maya in 2014. They come from the U.S., Canada, Europe, Latin America, and from other regions in Mexico.
Buy a second home here and you can earn good rental income. That's a nice bonus. You'll love spending time here, and when you're not enjoying your home yourself, you can rent it out and generate income.
Now we've talked a little about our part of the world, I'd like to give you some more information on our community.
TAO – A COMMUNITY THAT COMBINES LIFESTYLE & INVESTMENT
TAO is a unique community. It's located inside a 5* resort, the Gran Bahia Principe. This resort has invested more than $100 million in infrastructure. You can see that in the paved streets, the underground utilities, and the 27-hole golf course designed by Robert Trent Jones II. The resort has swimming pools, bars, cafes, a spa and lots of restaurants.
TAO is on the residential side of the resort, close to the golf course. (Some TAO homes feature golf course views.)
We wanted to create a real community, and a place where owners could meet, get to know each other and improve their well-being. That place is the TAO Wellness Center.
In the Wellness Center, you can join a yoga or meditation class, learn Spanish, swim in salt water lap pools, work out in the gym, book a holistic massage or take part in a Mayan sweat lodge ceremony. It's the heart of the TAO community. For many of our owners, it's the reason they bought a home in TAO.
But TAO offers more - an amazing return of investment due to high appreciation and rental income potential.
Our community is by far the most attractive investment opportunity in the region. And it's not just a developer's dream or plan. You have the peace of mind of buying into an established resort with top-notch infrastructure. Plus you're buying into a community that's already up and running, from a developer with a strong track record.
YOUR DREAM HOME AT TAO
Through proven double digit annual appreciation and rental income potential, our owners have been able to turn a profit on their units while enjoying the privileged location and access to all amenities located within the Bahia Principe resort. (TAO owners can buy an all-inclusive day pass in the resort from $65, and get discounts on spa treatments and golf.)
As an example of appreciation, a unit that was purchased four years ago for $230,000 now lists for $320,000.
In TAO, we offer a choice of homes, with a range of prices to suit most pockets. Let me know what you're looking for and I can give you more detailed information on that type of unit.
The two-bed two-bath condos in TAO are a popular choice. They're big enough to accommodate visiting family and friends and appeal to renters, too. All our two-bed condos feature modern, open-plan layouts and outside space – either a patio, balcony or rooftop terrace.
These are a couple of photos of some finished TAO homes (let me know if you want to see any more!):

The start price for a two-bed condo right now in TAO is $219,000. Of course, as a member of Real Estate Trend Alert, you get an exclusive discount off the purchase price of 6%. That cuts the price for you to only $205,860.
We also offer pre-approved developer financing, to make it easier to purchase a home in TAO.
With the pre-approved developer financing, buyers will pay 50% of the purchase price through a structured payment plan that can be set for different delivery dates (up to 2017). We'll work with you to come up with a payment plan that suits you.
On delivery, when you have already paid 50% of the purchase price, you can either pay the 50% balance in cash or get developer financing for up to 10 years at 8.5%. At this stage, you can move into your TAO home or rent it out.
JOIN US ON A CHILL WEEKEND - FOR FREE!
We want you to come and see TAO for yourself, by joining us on a TAO Chill Weekend. We host these regularly. They're a great way to get a feel for the TAO community and lifestyle, see what this Caribbean coast has to offer, and check out finished homes in the community. They're lots of fun too, and you'll get plenty of time to relax on the beach or by the pool. These are group tours, where you'll meet fellow Real Estate Trend Alert members.
The trips run for four days/three nights and normally cost $270 per person. That price includes your transfer from the airport, meals and accommodation and side trips to the beach.
But for you, as a member of Real Estate Trend Alert, there's no cost. The trips are free!
If you're interested in TAO, please feel free to contact me. I can give you lots of information on TAO, the features and layouts of condos, pricing, and how the developer financing and your discount plays out on specific units.
I can also help you book a Chill Weekend. We only have a very limited number of spots available on these trips. Please let me know if you'd like to join us. You can also fill in the registration form which you can find here.
If you prefer to talk, please send me your phone number and a good time to talk and I'll go through any questions that you have. My contact information is below.
I look forward to hearing from you.
INSERT NAME (of sales person)
INSERT EMAIL
INSERT PHONE NUMBER