Is this email not displaying correctly? Try the web version.
Dear TAO Friends & Family,
June is already upon us, and we are all excited for what the summer will bring this year! The month of June is always a busy time, as people travel and children enjoy their summer breaks.
In may we spent the month honoring mothers, and in June we can do the same for the father figures in our lives. Being a father has been one of my greatest sources of achievement and inspiration. My children teach me to laugh everyday, show me the importance of nurturing relationships, and teach me the importance of giving back.
I would like to introduce all of you to Miguel Barroso. He is the new Communications Manager! He will be working with the rest of the TAO Family to ensure the best experience possible at our community.
Miguel was born in Mexico City, with a background in finance and customer service, and lived In New York and London for around 10 years. In the past 3 years he has been immersed in the beautiful culture of Bali, Indonesia. He enjoys the practice of meditation and yoga, and loves to be in harmony with nature and every living thing. He believes that one of the best educations in life is traveling and learning from different cultures. Amongst his hobbies are swimming and playing tennis regularly.
Director of Operations,
Isaac Henares

LAUREN NAPOLITANO
June 3rd
Lauren Napolitano is an Artist based out of California. Her work is about celebrating the handmade and the imperfections that come along with it. Influenced by her mother's Mexican heritage, she uses symmetry and traditional Mexican craft (tile, textile, wood carving). Come find her painting small murals starting June 3rd.
THINGS TO CHECK OUT THIS MONTH:
FIDDLER ON THE ROOF
June 3 :: 7PM at the City Theatre (Teatro de la Ciudad) on 115 in Playa del Carmen.
Tickets will be available at the theatre's ticket office from 6 to 8PM on May 16 & 17, May 26 & 28, May 30 & 31, June 2 (last day of presale). $150 pesos presale, $180 pesos day of the event. More information: (961) 270 54 51.
THINGS TO CHECK OUT THIS MONTH:
ROBIN'S BEST SHIRT NIGHT
June 3 :: 5.30PM
At Lol Ha Beach Bar -Palapa Norte.
THINGS TO CHECK OUT THIS MONTH:
"ZAPATA ROOTS" REGGAE & CUMBIA AT ZIGGY'S BEACH
Saturday, June 4, 2016, 8PM – 10PM.
Great local band playing a reggae and cumbia every Saturday!
THINGS TO CHECK OUT THIS MONTH:
MEZZANINE HAPPY HOUR TWO FOR ONE MARGARITAS!
1PM – 4PM
With one of the best sea view terraces, Mezzanine is a favorite of locals and visitors. Try some of their delicious Thai food.
LATER IN THE YEAR:
HEARTMATH 2016
December 7-11
Come join us for a transformative experience in Awakening Our Heart's Intelligence: Activate the Intuitive Heart our fifth annual Mexico event. We will learn and practice tools for rapid consciousness expansion to raise the personal, social and global vibratory rate. We will explore the heart's intelligent guidance system and how it shortens our learning curve for intuitive connection.
Embark on a unique journey and learning experience. Awakening Our Heart's Intelligence: Activate the Intuitive Heart event is from Dec. 7 to Dec.11, 2016 at the TAO Wellness Center, a fantastic and uplifting venue in the Riviera Maya on Mexico's Yucatan Peninsula. The event will begin at 8:00 p.m. on Wednesday the 7th and end at 11:00 a.m. on Sunday the 11th.
LOOK OUT FOR NEW ART AND CULTURE EVENTS AT THE TAO WELLNESS CENTER
DID YOU KNOW?
A Frida Kahlo Painting,Two Nudes in a Forest painted in 1939, just sold for nearly 8 million USD! The auction was conducted by the house Christie's in New York, and this selling price broke the Latin American artwork record, previously owned by Oaxacan painter Rufino Tamayo!
ART THURSDAY IN PLAYA DEL CARMEN
Every Thursday when the sun goes down until 11PM ::
5th Avenue between 18th street and Constituyentes
The "Proyecto Caminarte" provides local artists the possibility to exhibit and promote their work!
Every Thursday night, 5th Avenue becomes an enormous gallery. As you stroll you can see some amazing work, as well as have a chance to connect with the local artist community.
LOCAL ORGANIC MARKETS
Puerto Morelos Farmers Market – Every Wednesday from 9 a.m. to 11 a.m. in the town center. The location changes so ask locally where the market is being held.
Kava Kasa Playa del Carmen – Every Tuesday from 11 a.m. to 2 p.m. on 22 Street between 5th and 10th Avenue.
CoCo beach Organic Market Playa del Carmen – Every Friday from 9 a.m. to 11 a.m. in Les Alizes Condos on CTM (calle 46) and Flamingos.
Papalote School Playa del Carmen – Every Wednesday from 1 p.m. to 3 p.m. 25th Avenue between 30th and 32nd Street.
Eco-Market Paamul Beach – Every Thursday from 9 a.m. to 11 a.m. Paamul is very small so drive to the beach and ask locally for the location that week.
Akumal Farmers Market – Every Wednesday AND Saturday starting at 10 a.m. The market is just inside the arches close the basketball courts.
TAO FOUNDATION
We are creating healthier communities, where equality, empowerment and opportunity are common. We are committed to fostering the fullest expression of healing relationships in this world, for people with themselves and their community, for those who have talent or resources to share, and for each and every one to realize their impact on and interrelationship with the natural world.
If you would like to find out more about the TAO Foundation please contact foundation@taoinspiredliving.com or check out our website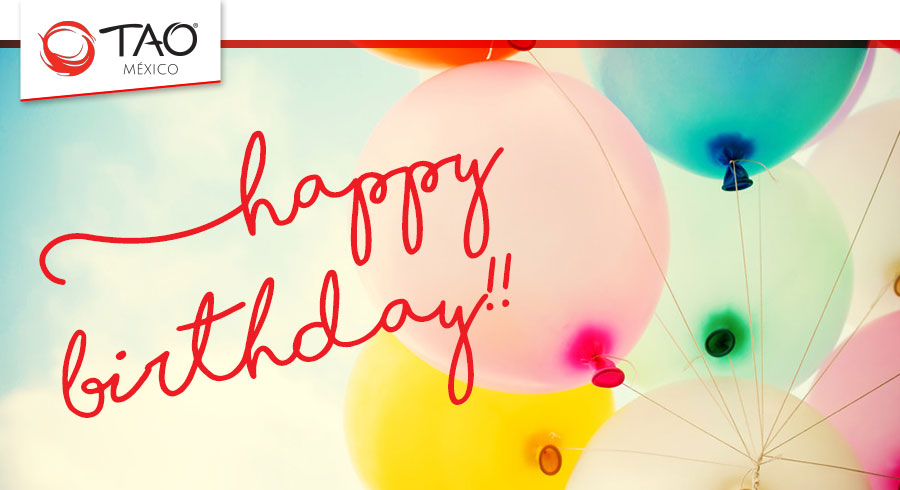 Ernest Rodriguez 2nd
Suzanne J. Taylor 3rd
Ronald James 5th
Glenda Annette Risling 8th
Brian Kliment 8th
Kayoko Mukhopadkyay 10th
Karin Ellen Mastrude 12th
Kevin Wayne Mcmillan 14th
Luz Marina Posner 16th
Michael H. Wimsatt 17th
Marvin Thomas Ward 21st
Claudii Kolesnik 23rd
Keith E. Johnson 24th
Eduardo Soto Molina 25th
Polly L. Ehlers 25th
Michael S. Schwartz 25th
Yolanda Carroll Schwartz 26th
Karen Glenn Auslander 29th
*Please send us your birthday info to complete our database.
socialmedia@taomexico.com
CONTACT US!!
CONNECT WITH US!!







TAO Mexico | Carretera Federal Chetumal – Benito Juarez km. 250 L-16. Gran Bahía Príncipe Akumal, Quintana Roo, México, C.P. 77750 | 800-461-1037 | taomexico.com