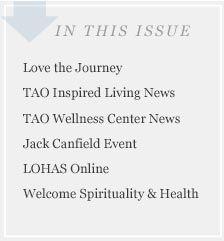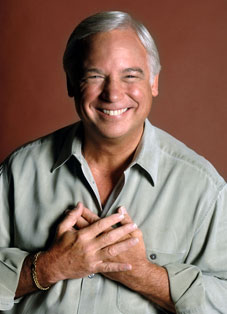 Join legendary Jack Canfield, America's #1 Success Coach, co-creator of the "Chicken Soup for the Soul" series, with our TAO CEO Dr. Jonathan Ellerby, International best-selling author, former Spiritual Program Director for Canyon Ranch Health Resorts for The Success Principles in Paradise! Journey to a tropical paradise and discover the tools and clarity you will need to achieve your greatest experience of success, through a unique experiential program with two Master Success Coaches whom have worked with celebrities and CEOs from around the world. 
During five powerful days you will learn the fundamental tools, principles and philosophies of success, transformation and mastering change that have guided some of the worlds most successful people in their relationships, health, business and spirituality. A key force behind the blockbuster film "The Secret", Jack Canfield will be your lead teacher in this event which is limited to 108 people!
This is a unique opportunity to spend quality time learning from a pioneer of the success coaching and personal development fields at a rare and affordable price! This event is already being called Jack Canfield's highest value, lowest priced event of 2012. CLICK HERE FOR MORE DETAILS.
TAO is a proud sponsor of LOHAS

Meet TAO CEO Jonathan Ellerby in NYC — April 25, 6:30pm - 8:30pm

Networking Event at Deepak Home Base, ABC Carpet and Home.

For more information CLICK HERE






S&H Partners with TAO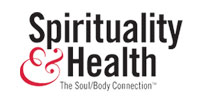 We are honored to join forces with Spirituality & Health Media, our new media partner. Spirituality & Health is a bi-monthly national magazine with a content rich website, that offers inspiration and ideas on the path to better living.

The mission of S&H is to inspire, make a difference and to help people live better lives through thought provoking content. Their readers are made of a community of people who are like minded, spiritual explorers, wellness seekers, people who recognize the interdependence of our health, our communities and our environment. We are big fans of S&H and are pleased to partner with them on many endeavors.

Spirituality  & Health has a special offer for TAOlife Subscribers.

Click HERE to know more about it.



LOVE THE JOURNEY:
2012 AND THE POWER OF ACCEPTANCE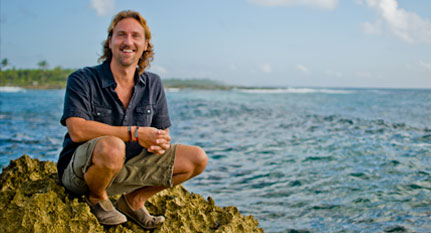 One of the most common things I have heard about this year, 2012, is that it has been an intense time for many people. Intense changes, intense challenges, intense opportunities and intense emotions along the way. Many people feel taxed or upset by all of the intensity they are facing. But the question is; is that the only way to view setback and struggle? At TAO it has all been very busy and exciting. Since our last newsletter we have built our beautiful Temazcal, we have been preparing for our sold out 2012 Awakening Wisdom event and the launch of our incredible Wellness Center.


All too amazing for words. Do you think it came without effort, issue or challenge? Do you think that we have all succeeded without doubts or distress? Of course not, we are human and the journey has been full of challenges and rewards combined together. Our efficiency comes from not getting caught in blame or disappointment.

As you navigate your changes in 2012 remember the powerful ocean. It is beautiful and awesome all at once. It is powerful and scary, soothing and magical. We accept all its facets and love the totality of its essence. The ocean, like each one of us, is filled with complex and competing forces and its all to be celebrated. The biggest challenge in life is rarely the problems that present or the limits we face, but the fact that we judge, label and blame in response - only making things worse. In 2012, practice acceptance as your first step in response to any intensity you face. It is hard to control every outcome, but you can practice enjoying the ride!

With blessings,

Jonathan Ellerby Ph.D.
C.E.O. TAO Inspired Living

TAO INSPIRED LIVING NEWS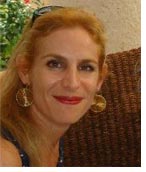 The TAO Foundation and the TAO Online Wellness Network are two new exciting developments at TAO Inspired Living. We will be spearheading efforts to build the new Online Wellness Network, an amazing portal into opportunity, communal altruism and amazing experiential information, that will essentially allow users to experience TAO as if they were actually here, no matter where they might be in the world!
The TAO Foundation will function primarily as the philanthropic focus of attention for all of our efforts. Mariana Beja, Benjamin's wife and our first volunteer, has already begun researching local outreach opportunities. We will be supporting local and global philanthropic projects with the clear intent to simply be of service. In conjunction with the TAO Online Wellness Network we will be developing the idea of bi-directional altruism so that efforts directed towards TAO will be equally reflected out into the world. We have already begun in a few small areas by offering help to local Diabetes support, and volunteering with visiting medical teams, as well as outreach to local artists and Explayarte music academy in Playa del Carmen.
The link below is to an amazing interview that happened spontaneously when TAO volunteered to work with 32 doctors from Germany who had come to help local people in Puerto Aventuras. We could not have said it better!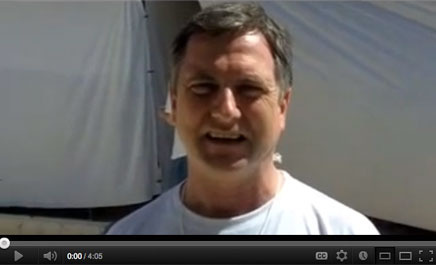 Ideas and suggestions are welcome. We are TAO, all of us, and by working together we can help make the world a better place. Please address inquiries and ideas to discover@taoinspiredliving.com
TAO wellness center news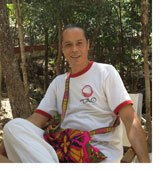 TAO welcomes Fabián Ríos to our Wellness Center staff. Fabián brings his profound spiritual teachings and Mayan healing techniques to our team. 

Born in Mexico City, Fabián has become a spiritual healer and a Temazcal Leader; he is also an Aztec Dancer and has studied the Ancestral Pre Hispanic sciences based on the knowledge of the four elements and the energy of the seven cardinal points.
His traveling has taken him to be initiated by the Mazatecs in Oaxaca Mountains, the Huichols in the Occident part of Mexico where he has gained a deep insight of his healing and transformation powers. He is also a healer through his unique massages and knowledge of the spirit. His work has been directed to help humanity in finding their inner freedom through the "cave" Temazcal. His knowledge in music and drumming has also taken him to perform many recreations of the ancestral world in many different forms. 
"As a teacher at TAO Wellness Program, I am very happy and commit to share with joy, integrity and passion the seeds of hope and faith of our sacred traditions. I find TAO project and it's team as a place where we can touch and get inspired to others not dream all their life but to live all their dreams"  shares Fabián.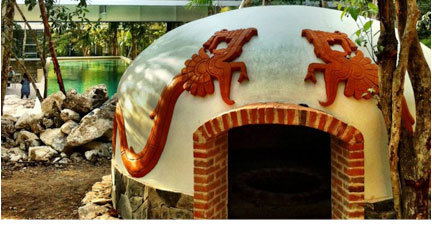 Last month Fabián and the TAO team built and blessed a traditional Temazcal  (pre-hispanic sweat lodge) on the Wellness Center property. The name Temazcal, or temazcalli is made of two Nahuatl words, temaz, which means bath, and calli, meaning house. In the Nahuatl culture of central Mexico, the goddess of the sweat bath was Temazcalteci, "the grandmother of the baths". "The mother of the gods" and of the medicinal herbs; this cult extended throughout Mesoamerica and it is found in the other great cultures of the region - the Mixteca, the Zapoteca and the Maya. The Temazcal is known for it's many curative and healing properties.