Is this email not displaying correctly? Try the web version.
Dear TAO Family and Friends,
I can't believe it's already February!
February, the month of Valentine's Day, is a good time to think of all the things you are grateful for: to focus on what you have, not what you don't and to focus on what you can do, and not on what you cannot. Let us build that loving feeling in our lives through a sense of gratitude.
In Mexico, Valentine's Day is referred to as "Dia de San Valentin". It is more popularly known as "El Día del Amor y la Amistad", meaning the "Day of Love and Friendship". The date of celebration is the same as the U.S date of observance, 14th February.
Mexicans attach a lot of importance to love and friendship. Hence, the day is an important occasion for them. It is traditionally a day when Mexicans profess love to their sweethearts. Those involved in a romantic relationship promise an everlasting love to their special ones. It is a time of celebration for unmarried lovers and married couples. As "El Día del Amor y la Amistad" is also about friendship, Mexicans use this day to express their gratitude and appreciation to their friends
Here at TAO, our communities are really taking shape. So far we have delivered just over 260 units, and are planning to deliver MEI and LAO this year. The weather seems perfect with the ocean is warming up, the pools are so lovely and the heat is just enough to make you head to the cenotes or for another frosty drink by the sea.
January was a busy month for us, with the TAO Ocean Meeting on the 19th, Homeowners Party on the 20th and then the HOA Informative Meeting that took place on 21st. Myself and the rest of the team would like to thank those that attended our productive meeting. A detailed account of the Informative meeting was sent out to all homeowners. We have also had several interesting events, including 2 visits to Yaxche, lunch in Tulum and the trip to Mahahual.
Also some more great news on the 21st we launched Room Service Menu, which seems to be working extremely well. There is more information including the times, contact number and menu further in the newsletter.
This month a large group of owners will be visiting Havana in Cuba, I would like to thank all of the people that are going! You will have a great time. We will all look forward to seeing the photos and videos of your adventures.
Looking ahead to March we have some big events coming up including;
• 4th-8th March- Yoga, Dance and Intuitive Healing with Dr. Jennifer Kelly, a therapeutic and innovative blend of yoga, music, dance and intuitive healing
• 19th March 11am-5pm. Up close & personal photography by Cindy Skeie , a photo expo at the TAO Wellness Center
• 21st, 23rd, 25th, 27th March Tarot and Astrology Readings with Tegan, Practice opening you subconscious mind and interpreting patterns, symbols and elemental sequences of the tarot deck.
• 21st Equinox at Chichen Itza.
My quote of the month: The best love is the kind that awakens the soul and makes us reach for more, that plants a fire in our hearts and brings peace to our minds. And that's what you've given me. That's what I'd hoped to give you forever - Nicholas Sparks
Isaac Henares
Operations Director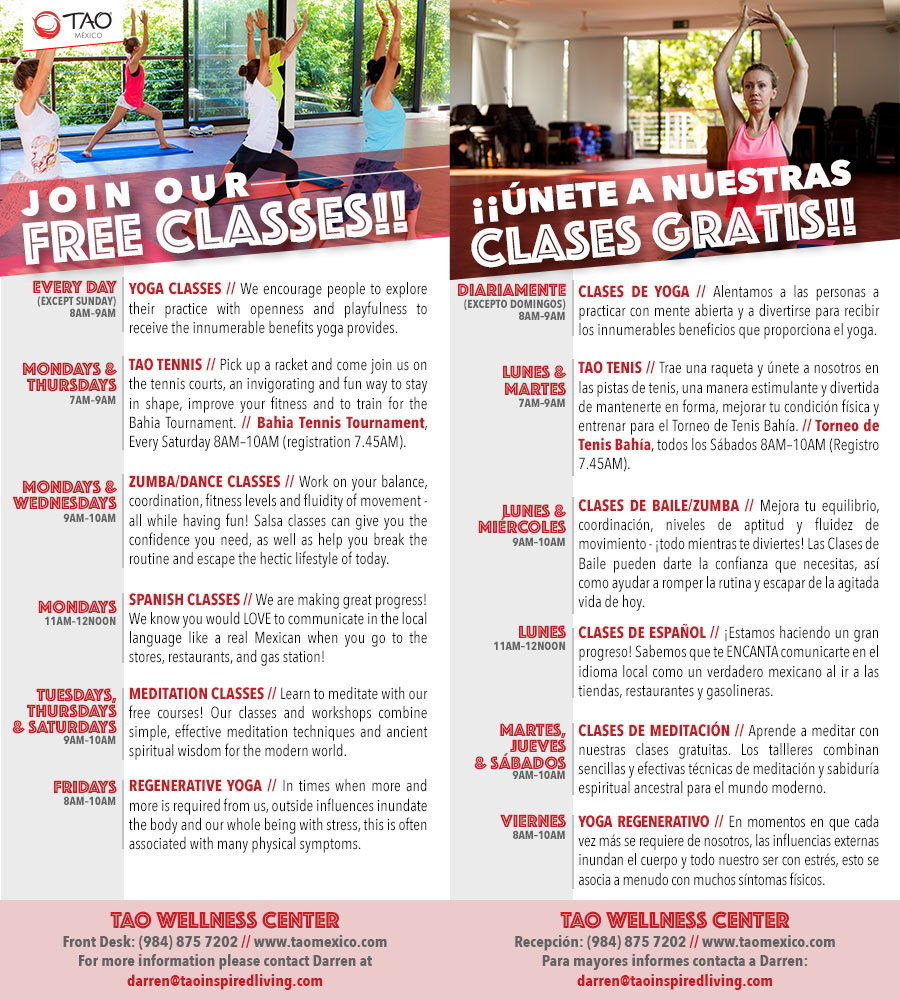 Room Service now available at TAO
Great news everyone! We now have a full room service menu that everyone at TAO Inspired Living Residences can enjoy.
• Available every day from 5pm-10.30pm
• Contact Info: 984 875 7200 (ext. 201)
Please do not hesitate to contact me if you have any further questions.
Thank you very much
Upcoming in February
Día de la Candelaria.
February 2nd
This is a day that families get together to have tamales.
Upcoming events In February
World Cancer Day
February 4th
Each year on 4 February, WHO and International Agency for Research on Cancer (IARC) supports Union for International Cancer Control (UICC) to promote ways to ease the global burden of cancer.
Upcoming events In February
TAO Cuba Trip
4th-7th February
Rousing rhythms, luscious landscapes and loquacious locals make charismatic Cuba a top travel destination for lovers of music, food, culture and life! Offering so much more than antiquated cars and coveted cigars, Cuba has a bounty of beaches, villages, farms and forests for travelers to explore
Upcoming events In February
Constitution Day (Día de la Constitución).
5th February
Upcoming events In February
Valentine's Day - Día del Amor y la Amistad
February14th
In Mexico this day is to celebrate friendship, as well as love. Friends and lovers exchange cards, gifts or flowers.
Upcoming events In February
Flag Day in Mexico
February 24th
Mexico's Flag Day (Día de la Bandera) is annually observed on February 24 to honor the country's flag. Mexican flags are seen hoisted high in front of offices, government buildings, and some homes on February 24. Thousands of people attend events held across Mexico to honor the flag.
Upcoming in March
Up close & personal photography by Cindy Skeie
19th March 2016
TAO Wellness Center
11am - 5pm
Cindy will be visiting the TAO Wellness Center on the 19th of March to show her photographs. All of her photos will be for sale. Enjoy a afternoon of wine tasting with friends.
Full details on Cindy's website: www.skeiescapes.com, contact her at cindys@skeiescapes.com
Upcoming in March
Tarot and Astrology Readings with Tegan
Monday 21th, Wednesday 23rd,
Friday 25th, Sunday 27th,
MARCH 2016 // 11AM-5PM
Salon Balam, TAO Wellness Center
One hour reading: $100USD. Recommended for all clients interested in energy movement, problem solving, in depth clarifications, manifesting higher consciousness and finding personal empowerment.
Half hour reading: $60 USD. Recommended for returning clients that are looking for an update with something they are working on.
Deepen your trust and learn to follow your intuition. Practice opening you subconscious mind and interpreting patterns, symbols and elemental sequences of the tarot deck.
Contact her at tegan.tarot@gmail.com or via Facebook
Upcoming events in March
Yoga, Dance and Intuitive Healing!
4th-8th March
TAO Wellness Center
Join Dr. Jennifer Kelly, Emily Wiswell and Natasha Ashworth at a restful, restorative retreat where invited guests can reset themselves to center or explore and begin a new path.
Upcoming events in March
Equinox at Chichen Itza
Monday 21st and Tuesday 22nd of March
NEWS!
Tulum Museum
Plans for a new center for Maya culture and prehistoric and pre-Colombian artifacts are scheduled for the Municipality. The city government of Tulum and the National Institute of Anthropology and History (INAH) are planning to build a museum in Tulum.
NEWS!
Award honors Xcaret as among the best theme parks in the world
Xcaret in Cancun and the Riviera Maya was recently recognized as the best international theme park and the best water park. The popular eco park won the 2016 Travvy Award held in New York City.
NEWS!
Mot Mot.... who's there?
The Yucatan Peninsula is an amazing place for birds. Here are a few places where bird lovers can observe a huge variety of species, including those which are endemic or endangered.
RECIPE:
15 Must-Have Mexican Salsa Recipes
Want to give your dishes a flavor boost? Bring on the salsa! Whether you use them as a dip for chips or as a topping for grilled meats, these easy salsa recipes will delight your taste buds all year round. Interested in more south-of-the-border flavors? Try these traditional Mexican recipes or some of our favorite healthy Mexican dishes.
TAO Foundation
We are creating healthier communities, where equality, empowerment and opportunity are common. We are committed to fostering the fullest expression of healing relationships in this world, for people with themselves and their community, for those who have talent or resources to share, and for each and every one to realize their impact on and interrelationship with the natural world.
If you would like to find out more about the TAO Foundation please contact foundation@taoinspiredliving.com or
Construction site progress
Our website is updated every month with the latest photos of the evolution of TAO. Here you will be able to see the latest progress of the different Condo Buildings, Residences, Town homes, Common areas and the Ocean Residences.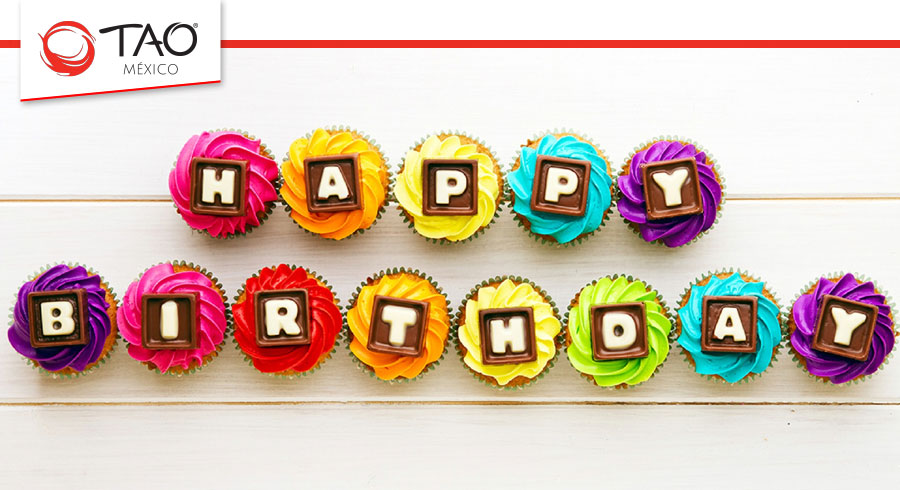 Heather Weldon 1st
Yusuf Suida 1st
Sam Sarandis 3rd
Marcus W Matzeit 4th
Carole Nap 5th
James L. Grant 7th
Frank Furnish 8th
Gail Mcmane 9th
Ian Wong 10th
William Gussow 13th
Julia Emilsson 13th
Allan Wong 14th
José Luis Cuevas Magaña 14th
Henry Ford Hubbard 15th
Harriet Lyons 16th
Lois Kerr 21st
Mark Finlay 23rd
Stig Emilsson 23rd
Curtis E. Ransom 24th
Bruce Gene Warner 25th
Linda Burdick & Randy Burdick 26th
Sinda Wood 27th
Betty J. Bishop Donellan 27th
Rosine Mcghee 28th
Ian Lawrence 29th
*Please send us your birthday info to complete our database.
darren@taoinspiredliving.com
CONTACT US!!
CONNECT WITH US!!






TAO Mexico | Carretera Federal Chetumal – Benito Juarez km. 250 L-16. Gran Bahía Príncipe Akumal, Quintana Roo, México, C.P. 77750 | 800-461-1037 | taomexico.com